Re-designing medical compression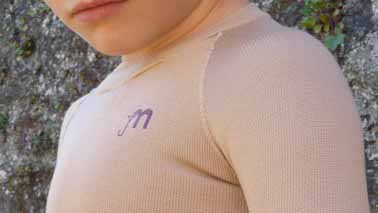 Pressure garments are used globally to prevent and treat hypertrophic burn scars. Dr Lisa Macintyre's work has improved medical outcomes, improved patient quality of life and made the design process for pressure garments more efficient.
Traditional 'reduction factor' methods of calculating garment dimensions result in pressures exerted on patients that range from ineffectively low to dangerously high.
Dr Macintyre's research led to the creation of the Pressure Garment Design (PGD) tools, the first and only tools that enable predictable pressures to be designed into compression garments. Supplied to NHS hospitals making garments 'in-house' and to global pressure garment manufacturers, these tools make treatment more consistent and predictable, with shorter lead-times, less waste and improved patient outcomes.
There are an estimated four million new burn scars every year, 70% of which occur in children. Dr Macintrye focussed on developing solutions to the identified problems. This led to the development of several key partnerships that have put this research into practice, in two pressure garment manufacturers in the UK, a supplier to the NHS in the UK, and two international pressure garment manufacturers. This covers most pressure garments used by UK patients, 250+ hospitals in New Zealand and Australia, and most Israeli burn patients as well as other countries supplied by these companies.
Dr Macintyre is now working in collaboration with Spentex, which supplies fabrics to the NHS across 13 specialist hospitals and burns units including the Queen Victoria Hospital in East Grinstead, world-famous for its pioneering burns surgery. She has been commissioned to test every batch of fabric Spentex supply, and to create a bespoke PGD tool for it, which is sent with every batch ordered.
Spentex has also supplied batches of fabric to the Acid Survivors' Foundation, an organisation that has treated and supported more than 250 victims of acid attacks in Pakistan since 2014, in order to reduce the disfiguring effects of acid burns.
As a direct result of this applied research, people suffering from severe burns have experienced significantly improved medical outcomes. This in turn has greatly impacted their quality of life during and after treatment.