Getting around Edinburgh
Edinburgh is one of Scotland's best connected areas with transport networks linking the city with the rest of the UK, Europe and beyond.
Edinburgh is a compact city which makes it easy to get around. From the centre you'll find many of the main attractions are within walking distance or a quick bus ride away.
Maps and directions to the Edinburgh Campus gives you more specific details of how to get to the Edinburgh Campus.
Cycling
Edinburgh is a great place to see by bike with its many beautiful residential streets. The centre is cycle friendly: at peak times, cyclists are allowed to share the buses' green lanes, and there's also an extensive network of traffic free cycle routes, many of which are built along old railway lines. Edinburgh City Council offers more information on cycling in Edinburgh.
Walking
Edinburgh is easy to get around on foot and a very pleasant city to discover by walking. It is built on several hills so you'll find plenty of steps linking roads in the old towns and quite a few gradients when criss-crossing the centre.
Bus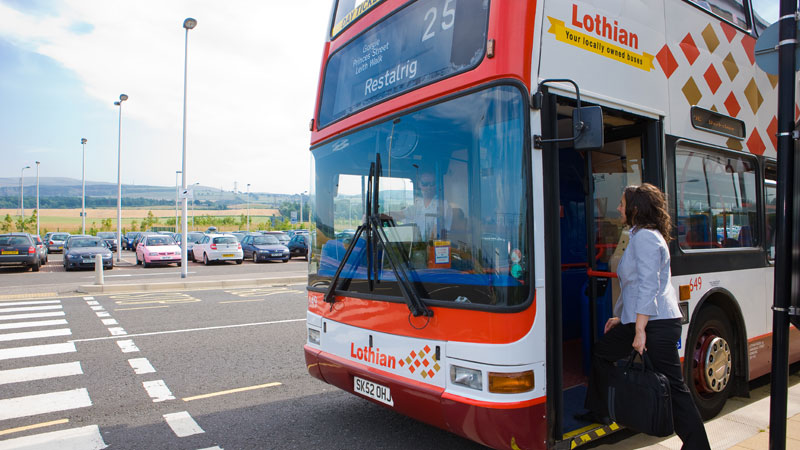 Edinburgh has a network of local bus services allowing frequent and cost effective travel throughout the city. Lothian Buses and First Buses are the main bus service operators.
Car
While it is possible to bring your car into the city, you will find many parking restrictions on the streets and congestion at busy times.
Train
There are two mainline train stations: Edinburgh Waverley in the city centre and Haymarket in the West End.
First ScotRail is the main operator of train services from Edinburgh to the surrounding areas and across Scotland.
There are 50 daily train services between Edinburgh and London and the fastest route takes 4 hours and 20 minutes. You can find UK train timetables on the National Rail website.
Tram
A tram network runs between Edinburgh Airport and the city centre. Route maps and more information can be found on the Edinburgh Trams website.
Air
There are 100 flights a day between Edinburgh and London and connections to more than 20 UK and Ireland hubs and throughout the world. You can find flight information on the Edinburgh International Airport website.
Image credited to Inspiring Edinburgh.
Key information
Key fact
Edinburgh is the principal gateway to Scotland and the 2nd city in the UK for international tourist arrivals after London