Robin Smith and Lord Home Halls
En-suite rooms are located in the Robin Smith and Lord Home Halls. Robin Smith Hall has 202 rooms for postgraduate students only and is available on a 51 week contracts. Lord Home Hall has 200 rooms for postgraduates and students with direct entry to 2nd, 3rd or 4th year and is available on a 40 week contract.
Each study bedroom is about 12 square metres, including the private bathroom. The bedrooms are grouped around kitchens for the use of four or five students.
You can take a 360° virtual tour of one of our en suite self-catering study bedrooms, a shared kitchen and a shared lounge to see how they look.
Accommodation fees

| Room type | Cost per week | Contract length | Cost per tenancy |
| --- | --- | --- | --- |
| Self-catered, en suite room* | £136.00 | 40 weeks | £5440.00 |
| Self-catered, en suite room** | £136.00 | 51 weeks | £6936.00 |
* Lord Home Hall
** Robin Smith Hall
How to apply
You can apply online for accommodation from April 2018. The closing date for guaranteed accommodation is 12.00 noon, 21 August 2018.
Find out more about how to apply for on-campus accommodation.
What's included in the rent?
The rent includes:
internet connection (100MB as standard)
heating
power
assisted clean of public areas and kitchens which means you are expected to maintain cleaning standards in your own flat.
Basic room contents insurance is included with your on campus accommodation and is provided by Endsleigh. Enter in your policy number HH1074 to check your policy details.
If you plan on using a personal television or a laptop for internet provider television (IPTV), you will need to buy a TV licence.
What's provided in an en suite room?
Your room key gives access to your designated lounge, kitchen and laundrette.
Study bedroom
Single bed
Mattress protector
Desk
Desk chair
Desk lamp
Wardrobe
Bookshelf
Pin board
Telephone
Ethernet cable
En suite:

Wash hand basin
Shower
Toilet
Bed linen, duvet and pillows are not provided, but you can order a bedding pack online for £25 when making your application.
Towels and toilet rolls are not provided.
For safety reasons, cooking/heating appliances and additional furniture are not permitted in study bedrooms.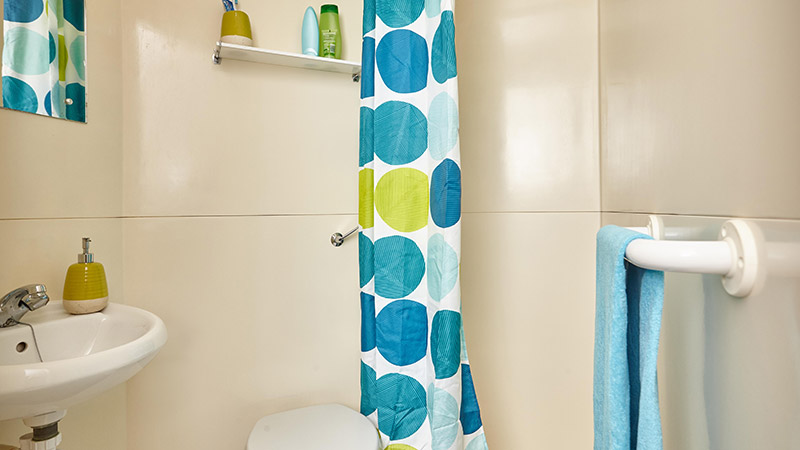 Kitchen
Cooker
Fridge
Freezer
Kettle
Sweeping brush
Dust pan and brush
Bucket and mop
Swing-top bin
Lockable cupboard
Table
Stools
Crockery, cutlery, pot, pans and kitchen utensils are not provided.
Refuse sacks are issued weekly so that you can safely dispose of refuse in the appropriate recycling bins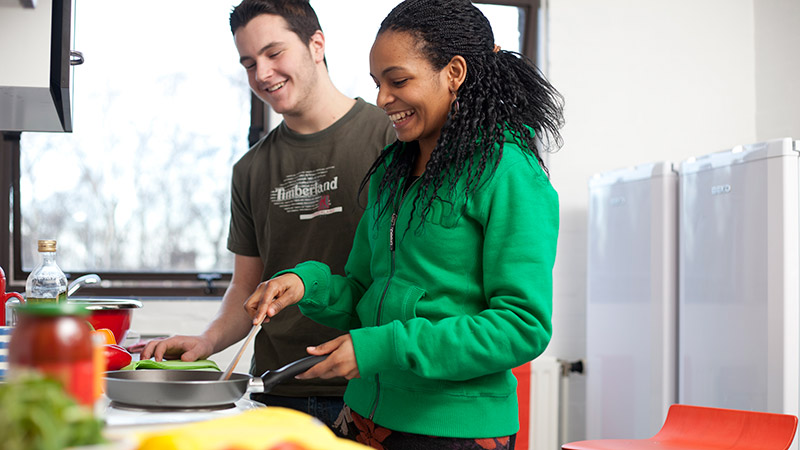 Lounge
Easy chairs
Sofas
Coffee tables
General
Other general facilities on campus include:
Laundry facilities (washing machines and dryers)
Bike shelter (limited spaces)
Live-in Wardens and 24 hour security
Images are used to demonstrate a typical student room in each accommodation type. However, the layout and contents may differ depending on the hall and room allocated. Please see the "What's included" section above for a list of what is provided in the room.