Our UK campuses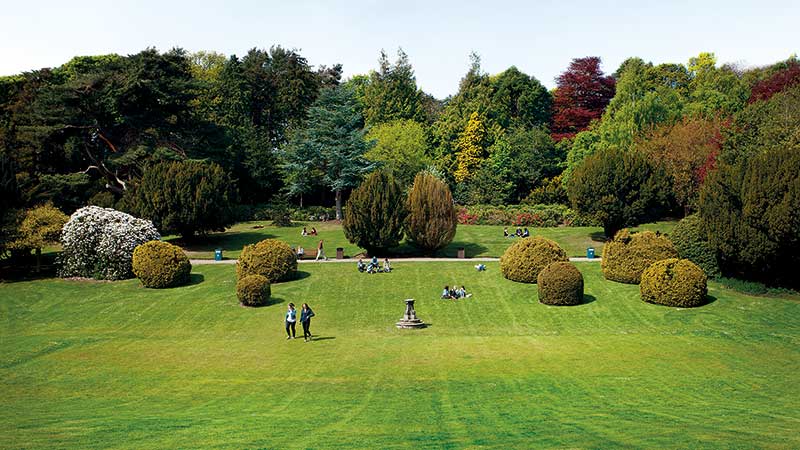 Our campuses in Edinburgh, Scottish Borders and Orkney each offer bespoke facilities and a distinctive working environment.
Living and working in Edinburgh

Our Edinburgh Campus is set in 380 acres of beautiful green parkland on the outskirts of one of the most exciting and thriving cities in Europe, the campus is renowned for its open, accessible and spacious environment.

Edinburgh is a city of major historical and cultural importance, and presents the perfect blend of old and new. Vibrant, cosmopolitan and consistently voted one of the best cities in the world, Edinburgh is the perfect place to build your career. Despite its compact size, the city of Edinburgh has something for everyone, and is home to the Edinburgh International Festival and the Edinburgh Festival Fringe, it is a focal point for art, culture, comedy and drama.

There is plenty for everyone to do with award winning restaurants, museums, parks, gardens, shops and sport facilities, making Edinburgh an exciting and fulfilling place to live and work.

A wide range of facilities are available on the Edinburgh Campus including a nursery, dental and doctors surgery, multi-faith Chaplaincy and a vibrant music scene including our own choir and orchestra. Heriot-Watt Edinburgh is also home to Scotland's National Sports Performance Centre, ORIAM, providing access to exceptional sporting facilities and classes.
Living and working in Galashiels

Our Scottish Borders Campus has a countryside location, situated perfectly at the heart of Scotland's textile industry. The Campus delivers the best design and production facilities for textiles and fashion in the UK.

The Borders Campus has a friendly atmosphere where students and staff alike have a genuine passion for what they do. Walk around the campus and you will observe creativity, research and talent on a daily basis. The facilities are our unique point of difference and have been described by Dame Vivienne Westwood as "The best in the UK".

Galashiels offers the best of both worlds; you're minutes away from the most stunning Scottish countryside yet the town centre has all the facilities you'll need. There are bars and restaurants to cater for an array of tastes; café culture; exclusive retail outlets plus specialist local stores; and even an old school retro cinema. Situated close to the market towns of Melrose and Kelso and a short train ride away from the centre of Edinburgh, Galashiels really has it all.
Living and working in Orkney

Our Orkney Campus, set in the picturesque harbour of Hamnavoe and Scapa Flow, has supported a broad range of research, teaching and consultancy activities within the marine, oil and gas, and fisheries sectors for over 25 years. The stunning setting brings its unique research programmes to life.

Orkney is without doubt, a very special and unique place to live and work. We are incredibly privileged to have a presence on an island as beautiful as Orkney. There are not many universities with such stunning views – with offices looking out onto Scapa Flow! The commute to work is rarely stressful –a lovely mix of rolling green, lush fields with dairy cattle and sea views with dive boats sitting majestically on the sea.

Although a small community, Orkney grips you, slowly but surely. There are many things to enjoy here: even on a windy, stormy day there is a magic and calm tranquillity about the place that is difficult to find elsewhere. During the winter there are frequent sightings of the Northern Lights, a truly unforgettable experience, especially if seen from the backdrop of The Ring of Brodgar. Orkney's 5000 year old Neolithic sites are well worth discovering – not just on the mainland but the outer isles too.

There are endless good things about Orkney and after a day's work, your commute home, is a treat in itself. Living and working in such a natural and stunning environment makes us happier and contributes to the enhancement of the work we do here at the Orkney Campus - indeed the people of Orkney enjoy the best quality of life in any rural area within the British Isles, as rated in a recent Scotland wide poll.
UK benefits

Relocation allowance for international employees who are recruited from outside the UK
Competitive salary on agreed pay scales with annual automatic increments, until the top of the grade has been reached (grades 2 – 9)
Generous holiday entitlement between 28 and 33 days, in addition up to 10 public holidays
Generous sick pay provision
Defined benefits pension scheme, which includes generous employer contribution grades 1-5 and grades 6-10
Free car parking
Cycle to work scheme
Give as You Earn
Family Friendly Policies
Technician Commitment

The importance of high quality skilled technical support has been recognised nationally through universities and other organisations who employ technicians, becoming signatories to the Technician Commitment. Heriot-Watt has signed up to the Technician Commitment.

This Commitment is a university and research institution initiative that aims to ensure greater visibility, recognition, career development and sustainability for technicians. Technical service provision is fundamental to the academic endeavours of Heriot-Watt University across a wide range of disciplines.
Eligibility to work in the UK

All employees are required to provide proof of their eligibility to work in the UK. If you are a UK or Irish national, you have the right to live and work in the UK without any restriction. All other nationals require a visa to work in the UK.

Read further information and guidance about eligibility to work in the UK.
Disability Confident employer

Heriot-Watt University is a Disability Confident employer, demonstrating our commitment to people with disabilities and providing a supportive environment for our employees.

As part of this commitment, we operate a guaranteed interview scheme for applicants with a disability who meet the minimum criteria for the role. The University is committed to ensuring that candidates with a disability have parity with other applicants during the selection process.
Armed Forces Commitment

Heriot-Watt currently holds a Silver Award for our commitment to the Armed Forces Covenant. If you are applying for jobs at Heriot-Watt, find out about our Armed Forces Community.