Swazi Alexandrea Mpila
4th year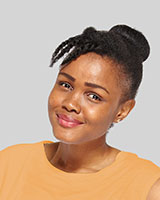 Swazi, from South Africa, is studying Psychology.
What appealed to you most about Heriot-Watt University?
The international diversity of Heriot-Watt appealed to me. I knew that being part of the diverse community would broaden my cultural horizons and I would learn the skills that would enable me to interact on a global level.
Do you feel your degree has prepared you well for a career?
The programme allows you to pick a variety of courses in addition to psychology, for example, management and languages. This is an advantage because your career options are not narrow and you could branch into areas such as management or health. I have also learnt a lot about myself through studying psychology, which I believe has prepared me for my career emotionally and physically.
Has your degree programme helped you develop links with industry?
Yes – throughout my degree we have had graduates and professionals come in to speak. They have given career talks, which have discussed graduate jobs and career options that we could branch into.
What would you say to prospective students considering studying at Heriot-Watt?
My experience at Heriot-Watt has been memorable and has stimulated me mentally and physically. I have made lifetime friends and great acquaintances who have steered me in the right direction necessary for my career path. Heriot-Watt University understands your needs and desires, from your academic achievements to your health and wellbeing.