Susan Chan
4th year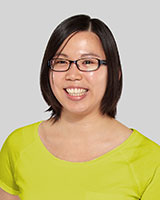 Susan, from Edinburgh, is studying BSc Physics in the School of Engineering and Physical Sciences.
What appealed to you most about Heriot-Watt University?
The staff-student ratio in Physics was a key factor influencing my decision to study here. From my time here, I have found that most lecturers in the department maintain an 'open-door policy' so help and support is never too far away. Also, both Heriot-Watt and Edinburgh are very internationally diversified – I don't have to move away from home to meet people from all over the world.
Do you feel your degree has prepared you well for a career?
Definitely! During my degree, I have had the opportunity to work with two research groups within the Institute of Photonics and Quantum Sciences here at Heriot-Watt. This has not only put my learning during the previous and upcoming semesters into perspective but has also developed my interpersonal skills, and abilities in experimental design and computational modelling. This has prepared me for my BSc lab project this year and undoubtedly for a successful career ahead.
Has your degree programme helped you develop links with industry?
Yes, by establishing relationships with staff and graduates, I am already networking and developing the links I need. The University is a melting pot of academic experts, many of whom have strong links with industry.
What would you say to prospective students considering studying at Heriot-Watt?
University life has many challenges but at Heriot-Watt, you'll find that these challenges come with great opportunities. Take full advantage of the opportunities here by playing a part in the academic aspects as well as the social, and I'm sure you'll enjoy your time here as much as I have!