Sheona Dorrian
3rd year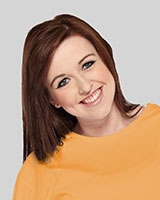 Sheona, from the Scottish Borders, is studying Psychology.
What appealed to you most about Heriot-Watt University?
Its location – you get the best of both worlds here as it's so close to the bustling, lively city but the beautiful campus felt like I had a part of home with me. I also liked that everything is on one campus, which gives you the opportunity to meet a diverse range of people day-to-day.
Do you feel your degree has prepared you well for a career?
My programme has demonstrated how useful psychology is in many different fields, from biology to business. Psychology always draws upon life skills, for example, communication, critical thinking and organisation. These are among the many abilities I have learnt, which have helped to prepare me for any career, no matter which route I decide to take.
Has your degree programme helped you develop links with industry?
First and second year were more to do with gaining more knowledge and understanding of the subject, however; since beginning third year, I have been made aware of internship opportunities. The University's Careers Fair provides the chance to meet over 40 organisations looking to promote work experience.
What would you say to prospective students considering studying at Heriot-Watt?
Go for it – I've had an amazing two years here so far and I'm excited to find out what the next few years will bring. You're no longer in the hands of your parents – university is a new chapter in your life, where you can make your own decisions and decide what to do!