Samuel Patterson
5th year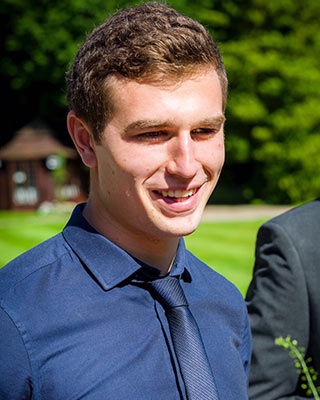 Samuel is studying Chemistry with Placement, MChem in the School of Engineering and Physical Sciences.
Why I chose Heriot-Watt
Heriot-Watt's reputation for science and engineering coupled with it being situated so close to one of the best cities in the UK for student life made an application a no-brainer for me. But beyond that, after submitting my UCAS application, my first contact with Heriot-Watt was different to any response I had from other Universities. The intake team were the most helpful and friendly by far and guaranteed first year students accommodation in one of their excellent campus buildings, a short walk from the lecture theatres and labs.
On visiting the campus, surrounded by trees, the loch and the library lawn filled with students busily revising, I knew I would be happy to make Heriot-Watt my academic home.
My experiences
The relatively small intake of chemists allowed for one of the most productive lecturing environments I could have hoped for. The lecturers encouraged questions and open discussion when topics were difficult to grasp and made tutorials and workshops a genuinely useful resource for study. I spent up to 8 hours a week in the laboratory and whilst at times they were very challenging, the teaching labs were also totally invaluable and some of my fondest memories have taken place there. I have been honoured with the role of class representative during my first and third years as well as being selected as a mentor for new students since second year.
During my fourth year I chose to take a year out in industry after seamlessly switching to the 'MChem with Placement' course. This was without a doubt one of the most useful and informative years of my education and I would highly recommend it to newcomers.
After graduation
After graduation I plan to enter into the polymer industry with a focus on renewables and green plastics. The year in industry course provided by Heriot-Watt really helped me in making this decision and the integrated Masters course made sure that I was well prepared to enter into the world of professional chemistry.