Sally Chute
2nd year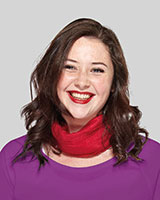 Sally, from Campbeltown in Scotland, is studying Applied Languages and Translating (French/Spanish) in the Department of Languages and Intercultural Studies
What appealed to you most about Heriot-Watt University?
I was drawn to the idea of studying interpreting at undergraduate level as many of the other universities I considered only offer interpreting at postgraduate level. I also liked the practical nature of the programme and the emphasis the department places on employability and making professional connections for students. This will really help me when looking for a job after graduating.
How are you enjoying the programme so far?
So far my programme has been varied and interesting and, most importantly, relevant to my planned career. Year 2 has given me much clearer ideas for the future. I'm really enjoying the programme, particularly my elective, British Sign Language – it's great fun to learn, especially as there are no verbs to conjugate!
Will you do a placement during your degree programme?
Yes – my 3rd year will be split between France and Spain, studying at partner institutions. My year abroad counts towards my degree, which isn't the case at all universities. I can't wait for the opportunity to develop my language skills and experience life abroad.
What advice would you give to prospective students considering studying Applied Languages and Translating at Heriot-Watt?
I'd say to get any experience you can get outside of the classroom – from being an au-pair, to doing internships or work experience, or just meeting up for a coffee with a foreign student who wants to improve their English.