Sahara Choudhury
3rd year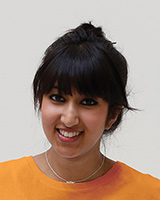 Sahara, from Newcastle-upon-Tyne in England, is studying Psychology with Forensic Science.
How has your degree programme prepared you for a career?
It eases you in slowly – it's interesting and broad. It then specialises and gets progressively more challenging – but this is to engage you as a student and prepare you for keeping up with new research and publications and your own research in the final year.
What would you say to prospective students considering Heriot-Watt as their first choice of university?
Take the opportunity to visit and experience for yourself Heriot-Watt life; don't be afraid to ask difficult questions whether it's about degree modules or halls parties!
What appealed to you most about Heriot-Watt University when you made the decision to come here?
I attended an Open Day and found the grounds and the buildings beautiful. I was so nervous when I visited – I was only 17 and all the staff I encountered were open and friendly to approach.
What sort of experience have you had in making links with industry?
Throughout my time here I have met different lecturers and made contact with other psychologists at other institutions with the help of the Heriot-Watt Careers Service. They have all provided insight into what different career paths are available, especially in research.
What are you planning after you graduate?
I have been involved on a voluntary basis in many University and Union activities – I love University! I have a passion for engaging with students and my course. These are the reasons why after graduation I shall hopefully complete a PhD programme and go on to be a lecturer in Forensic Psychology.