Matthew Spooner
3rd year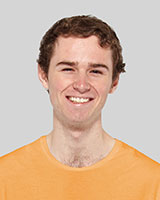 Matthew, from Nottinghamshire, is studying Psychology.
What appealed to you most about Heriot-Watt University?
The department has leading researchers in the fields of cognition and development, which complemented my interest in educational psychology perfectly. Studying in Edinburgh has also given me the opportunity to experience the festivals and culture that the city is famous for.
Do you feel your degree has prepared you well for a career?
The programme has helped me develop a wide skill set: writing formal reports, statistic testing, experimental design, presenting work to others, and a broad foundation in psychological theory. These will be invaluable in the research orientated career that I am looking to follow.
Has your degree programme helped you develop links with industry?
My academic mentor and the careers service have given me great advice about opportunities in the social sector. I have just started volunteering at a centre for people with MS. Getting relevant experience whilst studying will help me develop into a more rounded graduate.
What would you say to prospective students considering studying at Heriot-Watt?
I'd recommend Heriot-Watt – its beautiful Campus is an idyllic place to study and the programme is helping me take that big step towards the career I want. I've also made some great friends along the way.