Luize Marta Luse
3rd year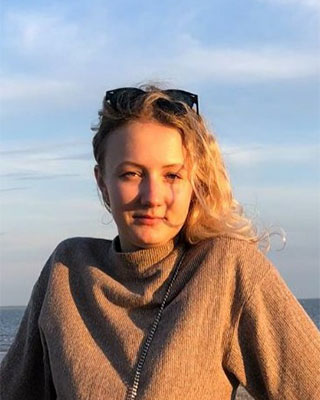 Luize, from Riga in Latvia, is studying an MChem Chemistry with Biochemistry, which is now the biology specialism of the MChem Chemistry.
Why did you choose Heriot-Watt?
The highly ranked chemistry programme was only one of the factors that influenced my decision. I was looking for a place that values students and their opinion. After reading about the experiences of other students and receiving a personal and attentive welcome from staff, I trusted this was the right place for me. Apart from the University's superb academic and sports facilities, the location was also critical to my decision. Edinburgh is a city like no other, a perfect balance between the vibrant life of a big city and the peaceful familiarity of a smaller town. It is remarkably friendly to international students.
What are the highlights of your experience in Heriot-Watt?
The chemistry programme has exceeded my expectations. Since coming here, I am constantly finding new, intriguing aspects of the science that I want to explore more closely. I am very happy with the broad scope of the course and highly value the practical experience provided, as it prepares me for anything I may have to tackle in my career.
My involvement in the Sports Union has definitely been an unforeseen highlight. I joined for the excellent facilities in the Oriam sports centre on campus, but I stayed for the Watt Family – an incredibly welcoming and close-knit community that has made me feel at home in this country.
I have since been continuously involved in the Volleyball Club committee and the Sports Union ambassador programme, learning, growing and having fun alongside my friends. In my second year I also volunteered for the Student Union as a Class Representative, which allowed me to be more involved in the Chemistry community. I enjoyed the work and felt like I wanted to contribute even more to the student experience and I have been appointed School Officer for my third year.
How has the university aided your professional and personal development?
The programme is closely connected to industry applications, with chances to gain important transferrable skills. What's more, there are so many opportunities for students who are keen to work and evolve. I am beyond excited to be able to help with postgraduate research in the summer, and the Careers Centre has been an invaluable help in seeking out scholarships and assisting with applications.
The staff and other students have created an atmosphere that has encouraged me to try new things and challenge myself. I only ever expected the university to facilitate and focus on academic growth, but there has been incredible support for wellbeing, a healthy work-life balance and personal growth, even through the pandemic. After I graduate, I would like to continue my academic development and pursue a doctorate, which I'd be more than happy to earn here, as I am in no hurry to leave this place.