Katherine Bruce
5th year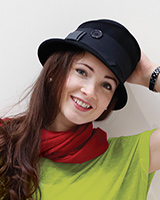 Katherine, from Banchory in Scotland, is studying Chemical Engineering with Energy Engineering in the School of Engineering and Physical Sciences.
What appealed to you most about Heriot-Watt University?
Its excellent reputation in Chemical Engineering and the close links it has with industry. Also, the Campus – it's only a short walk to lectures and everyone is close together, so you meet people from a wide range of programmes. Plus, living in Edinburgh is great – there is always something going on.
Do you feel your degree programme prepared you well for a career?
Yes, definitely. My degree covered all the core chemical engineering principles that are essential for industry, plus aspects of the programme developed my interpersonal skills that are needed for a successful career. I've worked on various team projects that mimic realistic industry scenarios, including working with other engineering disciplines on a business-related project, and these experiences really helped to prepare me for the future.
What would you say to prospective students considering studying at Heriot-Watt?
The University offers lots of opportunities. A Chemical Engineering degree from here is recognised by companies worldwide. You'll find the staff are very supportive and the class sizes are small, so you get more contact time with lecturers in comparison to other universities. Also, the social side of the university is great. I've had a fantastic time studying here and will definitely miss the student life!
Find out more about our Chemical Engineering degrees.