Julie Macleod
5th year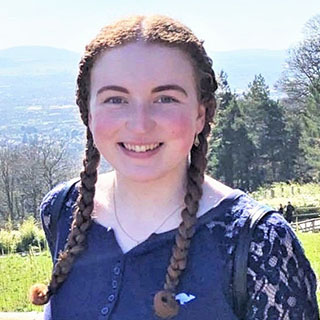 Why did you choose Heriot-Watt?
The university has a fantastic reputation for its chemistry undergraduate programmes. The open day left a great impression of the university and the staff were all very welcoming. The campus is absolutely beautiful and there are many walking paths which pass through the trees, loch and garden areas. I also like how there are many useful facilities on campus such as the library, student union, GP, dentist and the Oriam sports centre.
My Experiences
In my second and third years of university, I became part of the committee for the Chemistry Society and helped organise and run events throughout the year. These social events were ideal for chemistry students from different years to get to know each other and to share their advice on student life.
I was delighted to receive a scholarship in my 3rd year of study. As part of this scholarship, I attended the European Knowledge Forum organised by the Global Clinical Supplies Group. This 3-day event was a great opportunity for me as I got to speak to people from all over the world who worked for different companies within the pharmaceutical industry.
Year in Industry
The fourth year of this programme involves a year-long placement in an industrial laboratory. The university has a fantastic careers service available to all students and it was very helpful while I was applying for placements. They provided me with advice on how to prepare an effective CV and gave me information on what to expect at interviews.
I worked in the laboratory of a pharmaceutical company and completed a year-long research project. Throughout my placement, I gained a range of practical skills and experience using a variety of laboratory equipment. I highly recommend the MChem Chemistry with Placement programme as the placement provides both professional and personal development and it also gives you an insight of what it is like to work in the chemical industry.