Jay Clifford
2nd year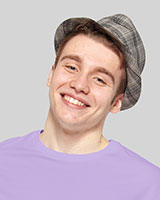 Jay, from Moray in Scotland, is studying Computer Science (Artificial Intelligence) in the School of Mathematical and Computer Sciences.
What appealed to you most about Heriot-Watt University?
The University has fantastic industry connections which do not disappoint! We have had lectures hosted from Amazon software developers to oil and gas software engineers. The campus lifestyle also appealed, which is amazing! It takes you away from the stress of the city and puts you in a place where you can breathe and enjoy learning.
Do you feel your degree has prepared you well for a career?
We have been taught a variety of programming languages, which has given us a taste of different areas of development that we could find a career in. Already I have started to picture the type of developer I want to become.
Has your degree programme helped you develop links with industry?
My programme is based around the industry of computer development and provides very up-to-date and relevant industrial skills. We have had countless talks from Heriot-Watt graduates who are now working as developers for companies such as Sky, Amazon and Google. We also have opportunities to enter designs into well-known competitions, which gives us the chance to be seen by industry experts.
What would you say to prospective students considering studying at Heriot-Watt?
Take every opportunity that Heriot-Watt has to offer you to try something new and different. I threw myself into life here and have done things I would never have considered before, from joining the swim team to performing as Peter Pan in the drama society to winning a competition for the best App design in my programme! I have loved every second of it!