Hazel Brookes
2nd year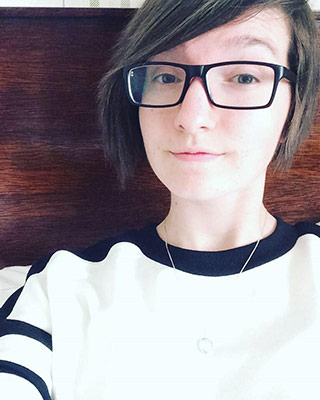 Hazel, from Bonnybridge in Scotland, is studying Computer Science in the School of Mathematical and Computer Sciences
What aspects of your programme really appealed to you?
I was always greatly interested in video games and programming, so when I saw the Computing Science degree I really knew I wanted to do it. The University's opportunities for language generalization and then allowing you to specialise in games programming modules in 3rd and 4th year, really appealed to me. The degrees are very flexible so you are able to completely tailor your degree to your interests.
What do you like most about studying at Heriot-Watt?
Personally, the lecturers and the staff are some of the best people I've met. They are incredibly helpful and supportive and if you are motivated they will completely go out of their way to give you opportunities. Events like the Code Clinic every week are extremely beneficial for coding support and mentors are always there for one on one help when needed. I've found myself helping at charity outreach events and Open Days all through volunteering and staff…the opportunities are endless!
Do you feel your degree is preparing you well for a career?
Definitely! We are currently working in various languages and software, which helps generalise your programming at the start of your degree. It helps greatly, if you are not too sure about specifics, to understand what different areas are out there so you can see what you as an individual would like to develop. Heriot-Watt provides a wide range of industry connections that allow you to learn a lot more about what your degree can lead to after university.
What would you say to prospective students considering studying at Heriot-Watt?
Heriot-Watt offers a whole range of degrees, outstanding industry connections and a beautiful campus in the heart of Scotland. You will not be disappointed with the quality and excellence that the University has to offer. There is something here for everyone, aside from your degree, from meeting new friends and having great nights out, to society socials.