Gareth McQueen
5th year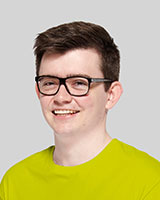 Gareth, from Fife in Scotland is studying MEng Chemical Engineering with Energy Engineering with DIT in the School of Engineering and Physical Sciences.
What appealed to you most about Heriot-Watt University?
Heriot-Watt's Edinburgh Campus is what drew me to the University. I liked the fact that it is like a village on the doorstep of the capital city in Scotland. The community feel is brilliant.
Do you feel your degree has prepared you well for a career?
I could not have expected how well my degree has prepared me for my future career. The programme always aims to relate what you are taught to an industrial setting which is of great use. My Diploma in Industrial Training (DIT) also gave me a first-hand opportunity to spend 14 months working in industry which was eye opening.
Has your degree programme helped you develop links with industry?
Heriot-Watt has first class links with many major companies, including those in the oil and gas industry such as Chevron, Shell and BP. It is interesting to see that many companies actually come to Heriot-Watt looking for students rather than vice-versa as you would typically expect. Due to their strong relationship to the University, I was able to complete my DIT with Shell.
What would you say to prospective students considering studying at Heriot-Watt?
Heriot-Watt is a fantastic university and a great platform from which to build your career. The University is globally respected and the people are great. With respect to the campus, you really need to see it to believe it.
Find out more about our Chemical Engineering degrees.