Fredrik Kloster Hansen
3rd year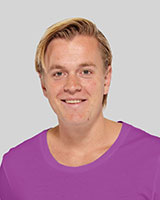 Fredrik, from Oslo in Norway, is studying Economics and Business Management at Edinburgh Business School.
What appealed to you most about Heriot-Watt University?
The combination of being located a short bus ride outside the majestic city of Edinburgh combined with the fact that the University could offer the full 'student experience' of living on campus with students from around the world. Also, Heriot-Watt is a highly regarded university in Norway and having it on my CV could make a difference when I am applying for jobs and internships.
Do you feel your degree has prepared you well for a career?
My programme has helped me to develop analytical abilities and knowledge of how organisations operate. It has also built up my self-confidence and I now know what I capable of achieving. I feel prepared in the best possible way for my future career and I am confident that I will be able to handle whatever tasks come my way.
Will your degree programme help you develop links with industry?
Heriot-Watt arranges Careers Fairs, which are relevant for my programme. Hopefully these events will give me a chance to establish links with companies relevant to my degree in Economics and Business Management.
What would you say to prospective students considering studying at Heriot-Watt?
I would say – go for it! The unique student experience of living on campus, combined with only being a short bus ride from the beautiful capital of Scotland should be more than enough to make up your mind. Add the fact that Heriot-Watt is high up on the UK university rankings, and you should have no need to look any further!