Farhana Akhter
4th year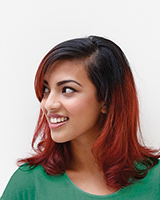 Farhana, from West Sussex, is studying Combined Studies in Computer Science and Business Management.
What appealed to you most about Heriot-Watt University?
Its location in Edinburgh; the employability rate for the degree I wanted to do; and the rankings of the School of Mathematical and Computer Sciences being very good.
What has made a difference to you while studying here?
The good relationships with lecturers and my mentor: they know what they are talking about and support you hugely. If it wasn't for my mentors I wouldn't be where I am with what I want to do. Also, it's given me time to grow and learn, and to develop confidence so I've pushed myself out of my comfort zone.
How has your degree programme prepared you for a career?
There have been talks, events and lessons which have provided advice about what you can expect after graduating, and the broad approach at Heriot-Watt means you learn the fundamentals of how the industry works and the various possibilities career-wise. I'm networking with people so that I can keep up with what's happening and I'd like to gain some experience in the technology industry, maybe through a graduate programme or a job.