Eshiva Wright
1st year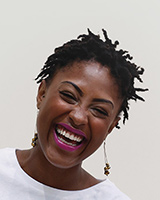 Eshiva, from London, is studying Economics at Edinburgh Business School.
What appealed to you most about coming to Heriot-Watt?
Heriot-Watt University combines academic excellence with a friendly and supportive atmosphere both inside and outside of the lecture theatre. The experienced staff in a wide range of different fields attracted me to the University; the stunning landscape surrounding the University (especially the tranquil loch in the Campus grounds) made it impossible for me to choose any other university.
What was the biggest influence on your decision?
Platforms such as Unistats and league tables are amongst many that students use to decide on university options. Heriot-Watt stood out positively for several aspects, such as employability after graduating, student satisfaction, helpfulness of staff and the level of support and opportunities available throughout each year of study.
How are you enjoying the programme so far?
Although I am only at the beginning of my university adventure, I am finding the programme of study extremely insightful. University is definitely different to school or college years; it is a new challenge and may seem scary to some. Luckily Heriot-Watt is full of welcoming students and staff who are more than happy to answer questions you may have. This has allowed me to have a truly wonderful experience at university to date and I am excited about future years ahead.