Emily Taylor
3rd year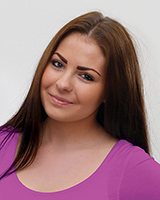 Emily is studying Design for Textiles in the School of Textiles and Design at our Scottish Borders Campus.
What appealed to you most about Heriot-Watt?
I came to the School of Textiles and Design Open Day and was completely blown away by the facilities that they have here. It was unlike anything I had seen at the other four universities that I had already visited and I actually said to my Mum that if I didn't get in here I didn't want to study anywhere else.
What has made a difference to you while studying here?
I think the range of subjects and different design techniques that I have had access to has been life-changing. Knit and Weave were both completely new to me and I'm now specialising in Knit so being able to try out new things has had a direct impact on my future.
How has your programme prepared you for a career?
I have taken part in different projects with industry and the School also organises regular talks from industry professionals and graduates of the School. These are good networking opportunities and help us find out how industry actually works and how to break into it. I have also been involved in design exhibitions in London and will be going to Premier Vision in Paris for a week in February.