Cameron Maxwell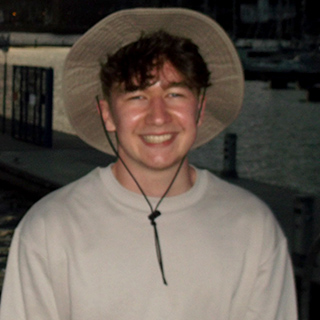 Cameron Maxwell from Dunfermline in Scotland is studying his BEng Chemical Engineering at the School of Engineering and Physical Sciences.
Three ways Chemical Engineering can/will make the world a better place in the future?
Chemical engineers can play a huge role in the fight against climate change, be it through optimising current processes to reduce the emissions or creating new technologies vital in the fight against climate change, a good example being the carbon capture research done at HWU.
When an unexpected new problem arises, the wide array of skills possessed by a chemical engineer are essential in combating it. The best example of this would be the current COVID-19 pandemic, where big companies like AstraZeneca hire chemical engineers to help manufacture the vaccine. It is the work of the chemical engineer to make sure that the maximum number of vaccines are produced all meeting the minimum standard of quality.
Commonly missed is the impact of a chemical engineer on the commercial world. Typical household items that modern day society relies on would cease to exist without them.
Three reasons Chemical Engineering was/is the right degree for you to study?
Perfect blend of everything I enjoyed at school, put into a form in which I can use to truly make an impact on the world.
I am really passionate about the fight against climate change, and generally just making the world a better place. I believe that a degree in chemical engineering gives me a really good chance to do so. A degree that means I can have an impact on the world.
This degree is known to have fantastic graduate opportunities with Chemical Engineering at Heriot-Watt boasting a graduate employment of 95%. This presents me with great opportunities post-university.
Three things that made you want to study at Heriot-Watt?
IChemE certification. With the Chemical Engineering course at Heriot-Watt being IChemE accredited, it means that I can be sure that all the leaning I am doing throughout my university time will actually come in handy when I kickstart my career. Along with this, it means that this transition into Industry is easier, making it a lot easier to become a Chartered Chemical Engineer.
The part of the University that really sealed the deal for me was the excellent facilities. As much as I love learning all the theory, I always took in information best when I put it into practice. I knew that the facilities at Heriot-Watt would give me an amazing opportunity to do so.
The fact that Heriot-Watt had multiple campuses really drew me in. The ability to take a year out and study the same subject that I love in a different country was perfect. I have always been keen to travel around the world, and Heriot-Watt allowed me to do that while getting the same great quality of teaching wherever I went.
Three things people might not know about Chemical Engineering at Heriot-Watt?
The wide range of different practical activities in labs. Across my three years at HWU some of my favourites have been: brewing your own beer, characterising a pump, and chemical analysis. It truly means I can get a taste of all the facets of chemical engineering and make an educated call of what one I like best.
Quality and friendliness of lectures. People you can truly get on with, teaching with passion about the subject you are actually interested in, just hits you differently. A really enjoyable experience makes you excited to attend lectures.
People always seem to know that Heriot Watt has multiple campuses but they're not aware of all the benefits this brings them. The greatest one I have experienced is having access to all the different course material from each campus. In one of my most recent courses, I preferred the Malaysian lecturer's approach and therefore chose to supplement my revision with their course material.
Three ambitions you have for the future/when you graduate?
To become a fully chartered Chemical Engineer. Chartership opens up a wider range of career opportunities and gives me the potential for higher earnings. In general, it means I can have more of an impact on the world as a chemical engineer.
To graduate into a job that is the perfect fit for me. With the opportunities HWU has given me to get involved and bolster my CV, it allows me some freedom in choosing specific type of Chemical Engineer that suits me. Be it, pharmaceuticals, brewing and distilling, oil and gas, renewables, project management, or even finance.
To stay in touch with the amazing friends I have made along the way, be that course mates, flatmates, staff, or anyone else.