Callum Lennie
5th year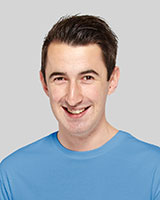 Callum Lennie, from Musselburgh, Scotland, is studying Civil Engineering in the School of Energy, Geoscience, Infrastructure & Society.
What appealed to you most about Heriot-Watt University?
After researching other nearby universities, it was clear that Heriot-Watt was the most recognised, especially for an engineering degree. The location of Heriot-Watt is also very appealing as it is easy to get to on the bus or in your car.
Do you feel your degree has prepared you well for a career?
My programme has definitely prepared me for graduating and going on to work in industry. It covers a wide range of topics and gives you experience in all aspects of the subject. Through my studies I have completed three years of summer work experience with an engineering firm. This has given me the chance to put the skills I have learnt throughout my degree into practice. The firm have offered me a graduate job upon completion of my degree.
Has your degree programme helped you develop links with industry?
In addition to my work placement, Heriot-Watt provides many Careers Fairs and industry talks. This gives you the opportunity to develop links with your chosen industry and provides you with information about what you can go on to do after you have completed your degree.
What would you say to prospective students considering studying at Heriot-Watt?
I would definitely recommend studying at Heriot-Watt to prospective students. The level of teaching and resources available is excellent and the University's industry connections will help towards finding a great graduate job for when you have finished your degree.