Brodie Campbell-McRae
2nd year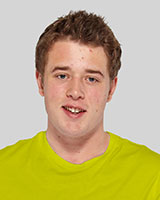 Brodie, from Edinburgh, is studying Chemical Engineering MEng in the School of Engineering and Physical Sciences.
What appealed to you most about Heriot-Watt University?
Probably the University's industry links. Before applying, I had met a few people who had studied at Heriot-Watt and said how they were more or less approached by companies looking to employ them while they were still at uni!
Do you feel your degree has prepared you well for a career?
Totally. Our degree programme is as much based around getting us as ready for industry as it is teaching us the theory behind it. In almost all of our courses we spend a good chunk of time being shown how what we're doing is actually applied in industry. This is great - unlike school, you really do feel like you're heading somewhere.
Has your degree programme helped you develop links with industry?
Without a doubt. The further up the programme you are, the more contact you'll have directly with industry. However, even in 2nd year I've been to a few Careers Fairs and met recruiters of some pretty big oil companies. This has been a great opportunity to see the kind of qualities they look for in graduates and the focus they place on extra-curricular activities.
What would you say to prospective students considering studying at Heriot-Watt?
The Campus is great, the students are amazing and diverse, and nights out are a ton of fun. And at the end of the day, you'll leave with one of the best industry recognised degrees in Scotland!