Sara Cooper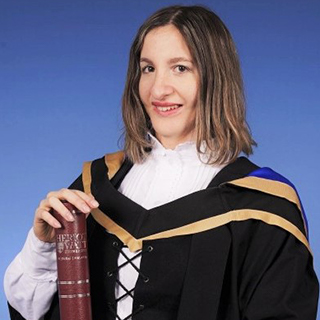 Sara Cooper from Spain is studying an MSc in Robotics at the School of Engineering and Physical Sciences.
What drove your decision to study a Masters degree in Robotics?
As a biomedical engineer, I always wanted to specialise in medical robotics, surgical robots, prosthetics, companion robots. During my undergraduate internship I had the opportunity to work with Pepper robot (Softbank Robotics) to develop a cognitive training program, and I was convinced I wanted to focus on social robots in particular, so that I could help introduce such robots in the healthcare sector, e.g. offer companionship and assistance to people. That is how I decided I needed to have a solid background in robotics through a MSc.
What was it about Heriot-Watt and MSc Robotics that made you want to study here?
The main reason was because I could not think of other places like the Edinburgh Centre of Robotics, a joint centre between Heriot-Watt and University of Edinburgh. They have so many robots, facilities and expertise and could and would have potential impact in worldwide robotics. Moreover, the programme at Heriot-Watt in particular was diverse enough that I could learn a bit of everything - from AI, foundation of robotics, internet of things to, most interesting for me, social robotics.
Can you tell us about part of your degree you particularly enjoyed?
I thoroughly enjoyed the multidisciplinary group projects. It is a course that I took during the second term and where we are put in groups, each given with a real-life problem. In our case I participated in the ORCA Hub project, with Clearpath's Husky robot, and had the opportunity to use navigation and manipulation for an underwater robotics application. The fact that we could use all these robots and see directly the output of our learning, is great.
Can you tell us about a lecturer who made a positive impact on your studies?
Marta Vallejo is one of the many lecturers that made a positive impact during my studies. She taught me biologically inspired computation, introduced me to artificial intelligence, and motivated me to try programming, something I was not confident about. It made me want to learn more about AI and how to make robots more intelligent. The tutor system at HWU is beneficial as they help to guide you towards your goals, and suggest potential courses or actions to take towards it.
How would you describe your experience of being a student in Edinburgh and at Heriot-Watt?
Heriot-Watt's campus grounds are an incredible place to be, surrounded by green and lakes. That really helped me have the opportunity to have a walk and disconnect, even during stressful times like exams periods. I was part of the Dance Club and the Oriam gym on-site, as well as the Student Union, which gave me plenty of opportunities to meet people and enjoy myself. Furthermore, Edinburgh is a beautiful city, easily reached from the university to have a pint at the pub, or walk along the castle gardens.
What is your ambition for your career?
My main ambition is to help develop social robots and improve human-robot interaction in the context of healthcare, both through research but also by directly introducing robots to people. After I finished my Masters, I managed to do exactly that: I am now a Robotics Software Engineer at PAL Robotics, working with its ARI and TIAGo robots for EU projects that aim to use them at care-homes or hospitals, but also in business side to spread the use of robots like ARI as receptionists.
Find out more about our postgraduate degrees in Robotics.