Humphrey Maambo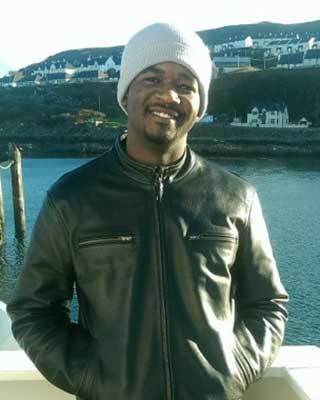 Humphrey, from Zambia, is studying an MSc in Renewable Energy Engineering. He received funding through Heriot-Watt's Zambian Independence Scholarship
What was your background before deciding to do a Masters?
Before joining Heriot-Watt, I studied Agricultural Engineering in Lusaka at the University of Zambia. I also did short courses in Integrated Pest Management, Tractor Wheel Slip, Tire Pressure & Fuel Consumption and Land Preparation courtesy of the Zambian-German Agricultural Knowledge Training Centre (AKTC) in Chisamba, Zambia.
Before coming to Heriot-Watt, I worked for InvestCorp Enterprises (a sub-contractor) on the USAID water supply, sanitation and drainage project run by Millennium Challenge Account (MCA) Zambia. I was also appointed as a Staff Development Fellow at the University of Zambia and it was this appointment that prompted me to pursue postgraduate studies.
What appealed to you most about Heriot-Watt University when you considered postgraduate study?
I decided on Heriot-Watt because I was well advised on which programme to pursue by the admissions office. I had initially applied for the MSc Renewable Energy and Distributed Generation programme. I was then contacted by the admissions office and they advised me that my academic background was perhaps more suitable for the MSc Renewable Energy Engineering programme. I looked up the course content on the university website and also realised that the MSc Renewable Energy Engineering programme best suited my previous studies. The fact that I was advised to choose a different programme was a clear indication that the education system was flexible.
Furthermore, I also learnt that Heriot-Watt University has a reputation for innovation and inspiration, and an attraction for leading thinkers and researchers from across the world. I knew I would be privileged to be among such a group of people. I also understood that I would meet people from different nationalities and discover new perspectives.
How did you find arriving at Heriot-Watt?
Since I had secured on-campus accommodation, I went straight to the main reception and was given my room keys and a school map within 10 minutes. I reported about three days after the welcome week but I was still able to catch up as most lecture PowerPoint presentations can be accessed online.
What tip would you give to an international student thinking of studying at Heriot-Watt?
To actively volunteer in a number of different activities especially those that suit your lifestyle or personal goals. Most of these will be emailed to your student email account. It might be necessary to join some of the societies that are run by students as well. Most of the gatherings come with free drinks and food. They also give you an opportunity to meet new people.
Also regularly check the scholarships page on their website for possible funding. Heriot-Watt offers quite a number of different scholarships like the Zambian Independence Scholarship I am on.
What do you enjoy the most about studying your degree?
One of my personal goals is to apply science and technology where possible to improve the welfare of a targeted society. One way of achieving this is by providing alternative energy sources that will enhance economic development by improving the quality of life (e.g. health, life expectancy and comfort) and productivity to final consumers. This improvement comes as a result of increased access to cleaner energy facilities by increasing efficiency to balance net greenhouse gas emissions. Renewable Energy Engineering is a programme that looks at different ways of making all this possible.
How do you think your Master's Degree will impact on your career prospects?
My home country Zambia is currently facing an energy crisis and electricity is the lifeblood of our economy. Major sectors such as agriculture and mining are likely to be more affected going forward. A reduction in output in these sectors inevitably means lower taxation revenues and stunted economic growth. We need experts to develop a roadmap to meet current and future energy needs in an economically, socially, and environmentally sustainable fashion.
Furthermore, the University of Zambia Council has offered me a lecturing position in the School of Engineering on condition that I successfully obtain at least a postgraduate degree in renewable energy studies. The contents of this course will equip me with technical and analytical expertise in alternative energy generated from biomass, solar, hydro, wind, etc. The acquired knowledge will further enhance my ability to apply a multidisciplinary approach to solving problems in a variety of sectors within our economy.