Ben Wade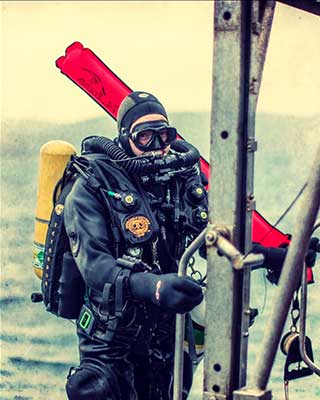 Ben graduated with an MSc in Marine Resource Management from our Orkney Campus in 1996. He is now a partner in Scapa Scuba and a dive charter business.
How did studying Marine Resource Management at Orkney help you in your current role?
I came to Orkney from Wales in October 1995 to do the Marine Resource Management MSc. 21 years later – I am still here!
What is your current role and responsibilities?
I am partner in Scapa Scuba – a 5 star PADI Dive Centre based in the former Lifeboat Station here in in Stromness. We also run a busy dive shop from it. I manufacture and repair diving dry suits and service diving equipment which keeps me busy all year round but particularly in the summer.
I am also partner in a dive charter business. In 2014 we commissioned the first custom made dive boat in the UK –"MV Huskyan". Fully booked throughout each summer we've got a great business model taking hundreds of divers into Scapa Flow in luxury.
What advice do you have for any prospective student thinking of joining the Orkney Campus?
Orkney was recently voted the second best place to live in the UK so who wouldn't want to study here! The Stromness campus is in a great location with stunning views over Scapa Flow. Stromness itself is a great town with lots going on. There are so many opportunities in Orkney for those that are keen to explore and get involved. There are a huge number of people connected to the renewable industry so it would put them in a great position to learn, make contacts and see the industry for themselves.
Image credit: Marjo Tynkkynen