Mwamba Mutale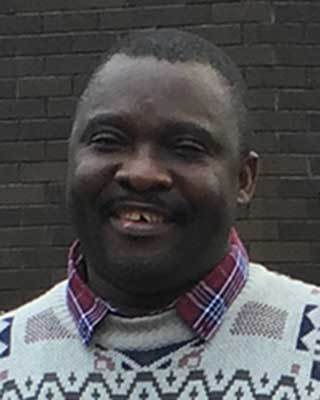 Mwamba, from Zambia, studied Climate Change: Impacts and Mitigation in the School of Life Sciences. He graduated in 2016.
What was your background before deciding to do a Masters?
Before joining Heriot-Watt, I had already studied Natural Resources Management in the Netherlands, with specialisation in soils management. I also studied Crop Science, courtesy of the University of Zambia and Natural Resources Development College in Lusaka, Zambia. I earlier on studied general agriculture at certificate level, again in Zambia.
I worked in the Government of Zambia in the Ministry of Agriculture and before I came to Heriot-Watt, I was working with an International Non-Governmental Organisation, Plan International as a Livelihoods Coordinator. I had to make a difficult decision to resign from work and take up study in Climate Change with Heriot-Watt University.
What appealed to you most about Heriot-Watt University when you considered Postgraduate study?
I decided on Heriot-Watt as I was inspired by a former workmate at Plan International who had studied Finance at the University. She worked as our Finance Manager and everyone admired and respected her abilities. I related her abilities to the studies and skills she might have obtained from Heriot-Watt. My choice was also influenced by the world reputation most UK universities have in providing quality training. UK graduates are respected and marketable in the various industries.
When I searched further, I also learnt that Heriot-Watt enrols a substantially large number of international students from all over the world. This gave me hope that I would meet, interact and learn a lot from other students from various cultural backgrounds, and become a world class scientist in Climate Change after successfully completing my studies. I have had a lot of opportunities to mix with students from all over the continents since starting at Heriot-Watt. Even my housemates are from four different countries - Scotland, China, Ghana and Italy, plus myself from Zambia.
How did you find arriving at Heriot-Watt?
The staff at this University are so friendly and helpful. I reported a bit late but within a week, I was no longer new simply because of the support I received from the Programme Director, and other staff from various departments that I went seeking for any help.
What tip would you give to an international student thinking of studying at Heriot-Watt?
Join some of the different societies ranging from academic related clubs and also social groups or clubs. You can select from over 40 of such clubs, meaning you can never be bored or lonely.
What do you enjoy the most about studying your degree?
Climate Change is so multidisciplinary so there are students from different academic and professional backgrounds at every module I attend. The discussions are so diverse and this gives me the opportunity to learn and understand fields I never thought I would be exposed to. For example, I am interacting with marine biologists, engineers, finance people, statisticians, environmental specialists and a lot more.
Climate Change science is so interesting because every day, across the globe, sectors and industries, and people including politicians are discussing the causes, effects, impacts and mitigation issues. There are very diverse arguments in this field where some people are even sceptical or completely in denial about climate change while others are appreciating it and the visible effects currently existing. To me, listening to all these arguments, discussions and happenings coupled with the course sessions and my own research efforts is making this programme challenging and confusing, but very interesting.
How do you think your Master's Degree will impact on your career prospects?
My ambition has been to be in a position, in a government or non-government institution where I should be able to influence decisions regarding climate change, its effect and impact on social economic development of our country and the region at large. Working together with other scientists and professionals who appreciate this field, I feel a big urge to play a role and contribute to providing information and guidance in climate change and environmental related issues to reduce its impacts in future.
Lastly, my career prospect is to go further in my academic inquiry and attain a doctorate level qualification in this interesting and fast evolving field that affects all sectors.