Tamsin White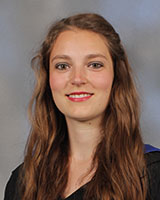 Tamsin studied Mathematics in the School of Mathematical and Computer Sciences.
What aspects of your programme really appealed to you?
From the outset I knew I wanted to study maths. The challenges of calculations and the adaptability of the subject knowledge really engaged me. I set my heart on a campus university with high standards of teaching and Heriot-Watt University ticked those boxes. With its stunning grounds and welcoming staff I was thoroughly excited to be accepted.
What has impressed you about your learning experience here?
Throughout my time at Heriot-Watt there were always staff available to assist with any questions or queries I had and they do their utmost to help you. They are passionate about their expertise and this really shines through in their varied teaching styles. There is a student representation system which is fully supported by the University and they really work to involve all students in changes and decision-making to benefit all parties within the University.
Would you recommend studying at Heriot-Watt?
Yes. Heriot-Watt has, undoubtedly, not only provided me with a stable programme of study but
an array of activities to suit any mood. Between the Student and Sports Unions my time at
Heriot-Watt University has been filled with rowing, tennis and societies such as First Aid Africa, a charity I am spending my summer with in Tanzania having just graduated. I am proud of how far both the University and I have come. In four years my experience has encouraged me to find the right future career path and become a more confident individual.