Ross Mathison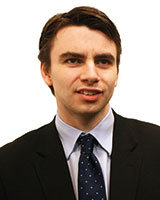 Investment Director, Standard Life Investments Ltd
Ross, who studied Business and Finance in the School of Social Sciences, now works as an Investment Director at Standard Life Investments Ltd.
What appealed to you most about Heriot-Watt University?
My programme allowed me to study many different courses including accounting, business management and investments before deciding which subjects to study in more depth. It appealed to me that I was presented with the opportunity to become familiar with a variety of topics from which I could later specialise, as I didn't know which area of business I would like to focus on at the point of choosing my degree. The sports facilities on offer were also a big positive.
Can you tell us about your current role?
My current role is as a fund manager where I am responsible for managing a European Equity portfolio. My investments education began in a second year lecture where we were presented the fundamentals of how the industry worked which led me to seek out a career in the industry. In my role we meet on a regular basis with the management teams of the biggest organisations in Europe and it is always interesting to hear them discuss their strategy and how they manage their organisations.
What would you say to prospective students considering studying at Heriot-Watt?
I would recommend looking for a programme which gives you exposure to a variety of topics in the first couple of years so you can work out which area to specialise in. In conjunction with the Careers Service I would recommend looking for a work placement or summer internship which will allow you to further understand the areas of business which may interest you. It will also give you a chance to pick a topic for a dissertation which you previously may not have considered.