Rachael Pirie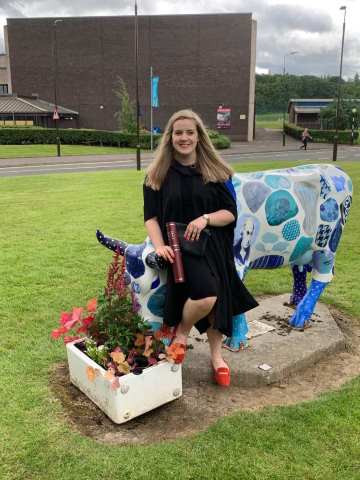 Rachael studied MChem Chemistry with Computational Chemistry and is now taking her PhD in AI for targeting anti-cancer treatments.
What influenced your decision to choose Heriot-Watt?
It was attending the Applicant Day that settled my decision to study at Heriot-Watt. It was structured differently to the other universities I visited, with student-led tours offering the opportunity to ask what it's really like.
The lecturers made time to meet with prospective students on a one-on-one basis and showed they had really read my application, which made me feel they were genuinely interested in me. Everyone was so friendly and welcoming it made the choice easy!
I also liked that everything is in one place, and that you can live on campus in the first year, which removed the stress of having to travel while you get to know the city better.
How was your experience studying chemistry at Heriot-Watt?
Overall my experience at Heriot-Watt was excellent! The department has a real sense of community, with the lecturers quickly becoming familiar with the students – one or two even knew the entire classes names by the end of Week 2.
Our tutorials were in small groups of around seven students, meaning the tutor could spend more time answering individual questions. Each student is also assigned a mentor to guide them throughout their degree, meaning there is always someone to ask for help and who knows you well, which is important for references for jobs and postgraduate positions.
Each lecturer provides partial lecture notes before class, making lectures easy to follow – it's far easier to fill in blanks than trying to catch every detail when learning complicated reaction mechanisms! The course also features a large amount of lab work, giving plenty of opportunity to apply the knowledge gained in lectures.
All final year students also complete a 24-week research project with one of the groups within the department, which gave valuable insight into what it was like to work in a real research lab. The degree programmes are also flexible. I moved from a programme with biochemistry to one with computational chemistry at the end of first year, without having to resit any modules.The lecturers were very helpful and supportive when changing course.
What other opportunities has studying at Heriot-Watt offered you?
Heriot-Watt has lots to offer students outside of their studies. Throughout my degree I was a member of the Chemistry Society, organising social and academic events to bring together students at different stages of their degrees. I would strongly recommend getting involved, as this was a great way to make friends both within my year and with older and younger students too.
In my final year I was also lucky to be chosen as one of the first Global Clinical Supply Group EU Scholarship students. GCSG is a volunteer-run organisation with US origins, that has since spread to the EU and Asia with the aim of sharing knowledge and best practice within the Clinical Supply Industry. This opportunity, for students interested in working within the pharmaceutical industry, allowed me to attend their EU knowledge forum in Barcelona, in addition to receiving a generous bursary. At the forum, I learned more about the effects of Brexit on clinical supply, personalised medicines and the challenges with clinical trials for rare diseases.
What advice would you give to a prospective student?
Work hard in your final year at school and you'll hit the ground running, making your first year at uni a lot easier. Five years at university will fly by sooner than you think – make the most of them and enjoy them while they last!