Milos Bartosek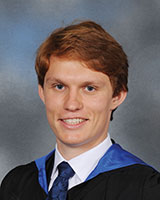 Associate, PwC Consulting
Milos, who studied Economics and Finance in the School of Social Sciences, now works as an Associate at PwC Consulting.
What appealed to you most about studying at Heriot-Watt?
They have passionate lecturers, great students and a beautiful campus. All the things you need for a fantastic university experience!
Did your experience here live up to your expectations?
Yes, definitely! I had a great student experience and my studies prepared me well for my future career. The Campus has brilliant facilities and beautiful grounds. It offers a supportive
environment for students to excel academically, as well as to relax, and one of the UK's best
sports grounds.
Has your degree prepared you for your chosen career?
The Economics department at Heriot-Watt is relatively small, yet it has a cosmopolitan character with students and staff from across the world. The Economics degree is well regarded by employers in the UK and I was able to join the graduate programme in PwC Economics Consulting in London straight after graduating.