Matthew Walker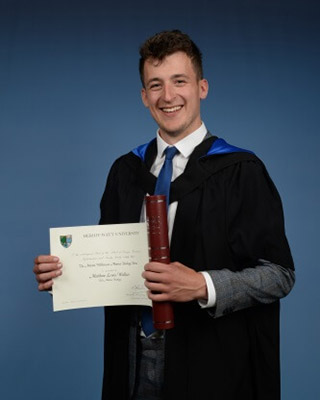 Matthew graduated with a BSc (Hons) Marine Biology in 2019 and won the Martin Wilkinson Marine Biology Prize.
What appealed to you most about Heriot-Watt University when you made the decision to come here?
I'd heard from friends and past graduates that Heriot-Watt offered a significantly more practical course than other universities in Scotland. I feel the practical aspects of this course lived up to the expectations and I think I was wise to choose this course over other similar ones. Another reason I chose to study at Heriot Watt is simply because I already lived in Edinburgh and was able to save a significant amount of money over the duration of the course by not moving out.
What is your favourite memory of your time at Heriot-Watt?
At the beginning of year 3, the marine biology course headed to Oban (North Scotland) for a week-long field study trip. Aside from the usual banter that goes with a group of students living in caravans for a week, there was an exceptional amount of practical, hands-on learning opportunities and valuable experiences that I think we all took on board and will benefit from further down the line when it comes to our careers.
How has your degree programme prepared you for a career?
I think this course has not only provided me with knowledge, but also how to apply knowledge to a potential career. Over the duration of the degree, many pathways and opportunities have been sufficiently highlighted and there have been plenty of insights into what life after university looks like, both in the theory and practical lessons we've been given.
What would you say to prospective students considering Heriot-Watt as their first choice of university?
I'd say go for it, what have you got to lose? The campus is lovely, the staff are very knowledgeable and friendly, and the facilities are getting better and better every year I've been here.
Find out more about our undergraduate degrees in Biology.