Lewis Gow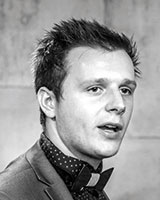 Brand Ambassador, Chivas Brothers
Lewis, who studied Languages (Interpreting and Translating) in the School of Social Sciences, now works as a Brand Ambassador at Chivas Brothers.
What appealed to you most about studying at Heriot-Watt?
The reputation the University had around Europe for studying languages, the facilities (interpreting labs), the courses on the programme being based more on language and the world it is used in (LINCS, SICE, Int. Orgs) rather than literature, and the obligatory year abroad in BOTH countries.
Did your experience here live up to your expectations?
My experience at Heriot-Watt certainly lived up to expectations. The standard set is extremely high but I was supported by the School throughout my degree to ensure that the correct level was consistently met.
What aspect of studying at Heriot-Watt has really made a difference to you?
My third year abroad not only improved my language skills, but taught me to be more proactive and independent, and gave me the opportunity to interact with different cultures. The skills gained living abroad have certainly helped me get to where I am now in my current career.
Has your degree helped you prepare for your chosen career?
Absolutely. The skills required for the job I'm in just now were foreign languages, presentation skills, an active and outgoing personality and experience of living abroad. All of these skills were ones gained during my time at Heriot-Watt. It is important to remember that time at university does not just help you learn about your chosen subject; it gives you valuable skills and teaches you life lessons. Heriot-Watt is a fine example of this.