Jordan Greenhorn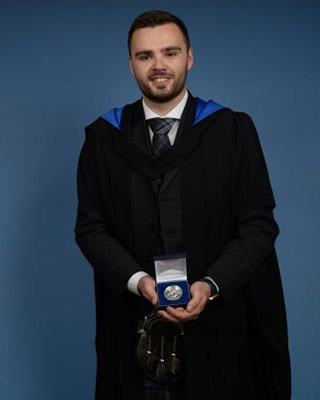 Jordan graduated with a MEng Architectural Engineering in 2019 and won the Watt Club Medal for Architectural Engineering, the CIBSE Scotland Student Award and the Tan Sri Yeoh Tiong Lay Award.
What appealed to you most about Heriot-Watt University when you made the decision to come here?
The links to industry that Heriot-Watt has appealed to me when applying. The statistics showing the success of students on the course really stuck out and was hugely influential in my decision to study at Heriot-Watt.
What is your favourite memory of your time at Heriot-Watt?
In year 3 we had a study trip to Berlin as part of our course. This was incredible and sharing a room with 9 of my course mates was a great laugh!
How has your degree programme prepared you for a career?
The links to industry has prepared me well for my early career. The Industrial Project Internship experience was so rewarding and has helped me secure a job with one of the largest companies in my field doing my dream role. The year 4 Design Project has taught me invaluable skills and has been such a valuable asset for interviews and has really impressed a lot of employers.
What would you say to prospective students considering Heriot-Watt as their first choice of university?
I could not recommend Heriot-Watt enough! The campus is great and all resources are easily accessible. I have left Heriot-Watt on such a high and it has prepared me so well for the early stages of my career.
Find out more about our undergraduate degrees in Architectural Engineering.