Jamie Smith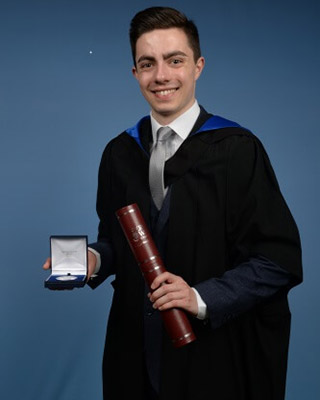 Jamie graduated with a MA (Hons) Geography, Society and Environment in 2019 and was awarded the Watt Club Medal for Geography and Urban Studies and won the Chartered Institution of Highways and Transportation Prize.
What appealed to you most about Heriot-Watt University when you made the decision to come here?
The nature of the programme I decided to study and aspects of the campus were key reasons why I decided to study at Heriot Watt. The staff were also very welcoming and enthusiastic during the Open Day I attended, which made me want to be a part of this University. These reasons combined made it an easy decision for me to come to Heriot Watt.
What is your favourite memory of your time at Heriot-Watt?
My favourite memory was being part of the EGIS Graduation Ball, which was held in the Edinburgh Botanical Gardens in May 2019 and organised by the EGIS Grad Ball committee. It was great to celebrate with my peers and for students from multiple courses to come together.
How has your degree programme prepared you for a career?
I believe my degree programme has provided me with both the knowledge and soft skills required for the career path I am taking in Transport Planning. Course content such as report writing, presentations and multidisciplinary team projects have been invaluable in my development as a young professional.
What would you say to prospective students considering Heriot-Watt as their first choice of university?
I would say they have made the correct decision in coming to Heriot Watt, as it is a great university to develop both academically and as individuals. I would also urge them to make the most of their Heriot-Watt experience by becoming involved in events/societies related to their course and/or personal interests.
Find out more about our undergraduate degrees in Geography and Urban Studies.