David Bease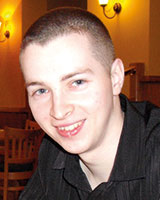 Embedded System Design Engineer, Abelon Systems, Edinburgh
David, who studied Electrical and Electronic Engineering in the School of Engineering & Physical Sciences, now works as an Embedded System Design Engineer at Abelon Systems.
What appealed to you most about Heriot-Watt?
The biggest factor in choosing Heriot-Watt was its solid reputation as a leading university in the engineering disciplines. I decided to take the MEng Electrical and Electronic Engineering primarily because the wide range of subjects covered allowed me to find out what specific area I was interested in. Secondly, the opportunity to get a six-month placement in industry greatly enhanced my CV.
What was the best bit about your degree at Heriot-Watt?
In terms of the programme, I enjoyed the practical work in electronics and programming most of all.
The theory is important, but the practical aspects of the courses allowed me to get to grips with the
new skills I was learning. As for being a student at Heriot-Watt, it was the friendliness and helpfulness of the staff that stood out above all else. There's always someone willing to help – whether it's with coursework, lab work or careers advice.