Clare Williamson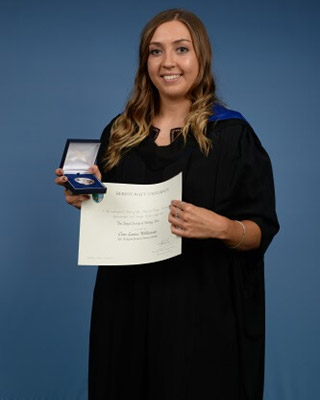 Clare graduated with a BSc (Hons) Biological Sciences (Human Health) in 2019 and was awarded the Watt Club Medal for Biology and won the Royal Society of Biology prize.
What appealed to you most about Heriot-Watt University when you made the decision to come here?
When I visited Heriot Watt I really liked the campus format of the University. I was also a part of the Scottish Women's Football National Performance Centre which was based at Heriot-Watt, allowing me to train and study in one location which was a major draw for me.
What is your favourite memory of your time at Heriot-Watt?
I haven't got one in particular, but I have so many great memories with my friends I made on my course, from just chatting at lunch to finally celebrating at Grad Ball. Going through the difficult or stressful times at university was definitely made far easier with them alongside me.
How has your degree programme prepared you for a career?
My degree has given me a vast amount of new knowledge and really helped me develop an understanding of my subject area. It has also given me the confidence to complete work that I may have considered too difficult before. I think this will be beneficial in whatever career path I take when faced with new, challenging or even daunting tasks.
What would you say to prospective students considering Heriot-Watt as their first choice of university?
I think Heriot Watt is a great choice of university. The campus layout means everything you need is in one place and that's really helpful when it comes to finding resources and getting the help you need. It is a diverse university with a really friendly, positive atmosphere and somewhere I have really enjoyed learning in. I would definitely recommend it to anyone considering studying here!
Find out more about our undergraduate degrees in Biology.