Charlotte Kerr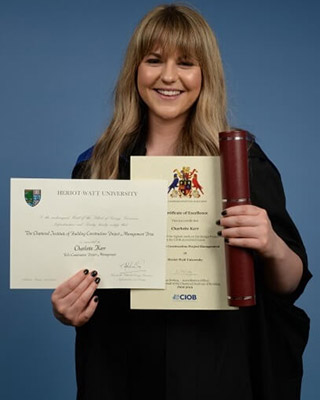 Charlotte graduated with a BSc (Hons) Construction Project Management in 2019 and is a winner of The Chartered Institute of Building Construction Project Management Prize.
What appealed to you most about Heriot-Watt University when you made the decision to come here?
I was familiar with the University's outstanding reputation in engineering and construction.
What is your favourite memory of your time at Heriot-Watt?
My favourite memory at Heriot-Watt would either be the trip to Berlin in year 3 or completing my year 4 Design Project.
How has your degree programme prepared you for a career?
My degree has helped me gain essential skills such as teamwork, time management and leadership. It has also given me the confidence to pursue a career in the construction industry though participating in a range of realistic multidisciplinary project work over the years.
What would you say to prospective students considering Heriot-Watt as their first choice of university?
My time at Heriot-Watt University has been a phenomenal experience both academically and socially and I have learned so much over the years and have made lifelong friendships.
Find out more about our undergraduate degrees in Construction Project Management and Quantity Surveying.