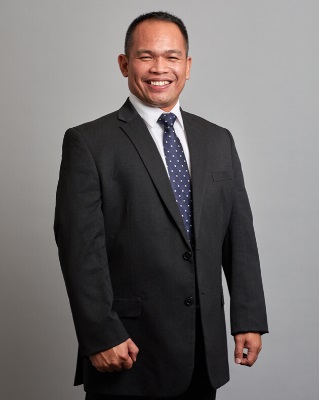 Jeomides Llanera
Safety Officer, Qatar Petroleum
Jeomides graduated in December 2019 with an MSc in Safety, Risk and Reliability Engineering. Originally from the Philippines, he now works and lives in Qatar for Qatar Petroleum.
Can you tell us about your current job?
I work for Qatar Petroleum (QP), Offshore Operations under the Health Safety and Environment (HSE) Department as Safety Officer for marine and production stations of oil and gas. My role as a safety officer is to ensure effective implementation and monitoring of HSE management systems and programs for the safety of the workers, assets and the environment. I am responsible for conducting HSE inspections of marine vessels, HSE audits, safety meetings, and incident investigations. I am also involved in HSE tender documents preparation and evaluation, and managing HSE in contracts.
What was your experience of studying online?
My online study experience was excellent. The online platform, academic staff and the student support groups are exceptional in responding to queries and assistance. Webinars, learning materials and discussion boards are great. They gave me the flexibility of managing my study and completing the course work anytime and anywhere. Even when I was on business trips or on holiday with family, I could access and communicate via discussion boards or emails and submit my assignments online.
What have you enjoyed about your MSc degree programme at Heriot-Watt?
I really enjoyed studying all courses especially the Human Factors Methods and System Reliability. As well as being very interesting, it enhanced my knowledge in human factors engineering and developed my skills in assessing system reliability in marine vessels and offshore facilities.
What's the most unexpected or surprising thing you experienced studying your MSc?
On a personal note, it was doing well and receiving a good grade for my dissertation. All the hard work really paid off! I think the highpoint was finally receiving notification that I was eligible to apply for graduation. I was really overjoyed and so thankful to God for completing my master's degree in one of the best universities in the world.
What impact has the MSc degree programme had on you and your career?
My master's degree boosted my confidence, widened my knowledge, and enhanced my skills in safety, risk assessment and reliability engineering, which is useful in my present and future career in the oil and gas industry.
What advice would you give to an online postgraduate student considering embarking on their studies at Heriot-Watt?
For those who desire knowledge, certification or want to pursue personal development, I advise you to enrol on the online postgraduate study at Heriot-Watt University. It was an excellent and enjoyable learning experience.
Qualifications
MSc Safety, Risk and Reliability Engineering, Heriot-Watt University, 2019