BEng (Hons) Mechanical Engineering
The course
Delivery type

Day

Duration

4 years (full-time)

Intake date

September

Location

Dubai
Contact
Contact

Heriot-Watt University Dubai Campus

Telephone

+971 4 571 7000

Email
Overview
Modern society needs high quality Mechanical Engineering graduates for their professional mechanical engineering skills and expertise. Mechanical Engineering offers an exciting environment where many skills are brought together to enable the undergraduate student to understand:
how products are engineered, manufactured and supported
how and where analytical engineering science and mathematics are used in design, development and research
how the use and management of resources is important to society and business competitiveness
how it is necessary to communicate and present concepts to engineers and non-engineers alike
Mechanical engineers play key roles in all industrial sectors, from aerospace and oil and gas, through food and transport, to the manufacturing, chemical and entertainment industries. Professional mechanical engineers are at the forefront of the management of the Earth's natural resources, as they strive to meet the conflicting demands of the modern world, in particular the desire for ever-increasing living standards in the face of limited resources and environmental concerns.
These challenges are perhaps clearest in the field of energy production and utilisation. In many areas of the world, provision of adequate water supplies is an ever more pressing problem. As well as having vital roles in providing these basic necessities, mechanical engineers belong to teams responsible for the design and manufacture of countless articles we take for granted today, from aircraft to artificial joints.
Why study Mechanical Engineering at Heriot-Watt University's Dubai Campus?
Lay the foundations for a career in mechanical engineering, an area with excellent and varied career prospects
Learn how many of the devices and machines we take for granted work.
Study a subject that lets you apply the principles of mathematics and physics to the real world
Learn the skills that will put you in a position to move into management roles as a professional engineer
Explore the exciting worlds of transport, manufacturing, power plant, medical engineering and many others
Whatever your final career path, developing the ability to apply quantitative methods to solving problems – the basis of engineering – will be an invaluable asset.
Accreditation
Read more about the UAE Federal Accreditation.
This programme is accredited by IMechE.
Student profile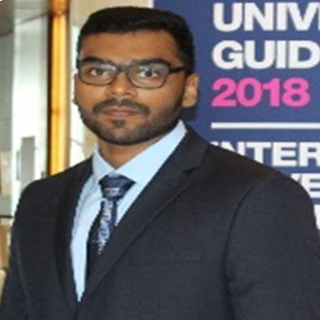 The professors at Heriot-Watt taught me various courses which helped me apply the theoretical knowledge to solve real life problems faced by the industrial client.
Course content
First year
Emphasis is on developing basic mathematical, scientific and communication skills. Subjects include Physics, Design and Manufacture, Materials Science, Engineering Sciences, Electronics and Foundation Mathematics.
Second year
Subjects include Machine Design, Electrical Machines, Fluid Mechanics, Thermodynamics, Design and Manufacture, Advanced Mathematics and Strength of Materials.
Third year
Subjects include Applied Thermodynamics, Fluid Mechanics, Design and Manufacture, Control Engineering and Instrumentation, Management and an option to take Energy Studies or Automotive Technologies.
Fourth year
As well as an individual research project, students undertake courses in Engineering Design and Engineering Manufacture (in partnership with industry) and can choose to be more specialised in their choice of engineering sciences by selecting from options in Fluid Dynamics, Thermodynamics, Strength of Materials and Machine Dynamics.
Career
There is a constant demand for Mechanical Engineering graduates in many sectors, including power production, oil and petrochemicals, transportation, building services, utilities and manufacturing. There are few activities that do not require mechanical engineering input at some stage, and this is reflected in the opportunities available to mechanical engineers. Many engineers move into management positions where their numeracy and problem solving skills are valued.
Entry requirements
Our entry criteria are listed below. However, please note that the final decision remains at the discretion of the course director after evaluating scores of individual relevant subjects.
Students who are eligible to be admitted directly into second year can choose to join the first year, where available.
First year entry
GCE A-Level - CCC (or AABB at AS-Level)
CBSE/Other Indian Boards - 65%.
American High School Diploma/SABIS - 70% + SAT I – 1000 (500 English and 500 Math)
Tawjihiyya - 80% or Elite/Advance - 75% Eng, math & Physics+ EmSAT English 1400, Math 1200 and 1100 Physics
International Baccalaureate Diploma Programme - 24 points (3 HL – including Maths and Physics, and 3 SL)
BTEC Level 3 Ext Diploma MMM
FBISE grade 12 or equivalent – 70%
Russian/Kazakhstan (Attestat) - Grades of 5 in every subject + IELTS 6.0
French Baccalaureate - 13/20 + IELTS 6.0
Lebanese Baccalaureate - 80% or 13/20 + IELTS 6.0
Foundation year - Successful completion of Heriot-Watt University Degree Entry Programme (Engineering) with a CCCC.
Compulsory subjects to include Mathematics, Physics and English.
Second year entry
GCE A-Levels - BBC.
International Baccalaureate Diploma Programme - 27 points (3 HL – including Maths and Physics, and 3 SL)
CBSE/Other Indian Boards - Overall 85%
American High School/SABIS - 70% + 3 AP at grade 4 (Including Maths and Physics) or Minimum 3 SAT Subjects (SAT II) 500 each, including Maths and Physics.
Higher National Diploma (HND) - PPP
BTEC Level 3 Ext Diploma - DDD
FBISE grade 12 or equivalent - 85%
Certificate of Higher Education - Successful completion of course with a minimum of grades of D in every Subject.
Transfer students from other universities may be considered on a case-by-case basis.
Compulsory subjects to include Mathematics, Physics and English.
To find out about the entry requirements for this programme, please send an email to dubaienquiries@hw.ac.uk
English language requirements
As our degrees are taught and assessed in English, applicants must be able to prove their level of English language ability. To know more, please refer to our English language requirements.
Fees and funding
* All tuition fees inclusive of VAT
Scholarships and bursaries
See our range of degree entry, undergraduate, postgraduate taught and PhD scholarships and discounts.