MSc Business Psychology with Coaching
The course
Delivery type

Weekday evenings and Saturday

Duration

1 year (full-time) / 2 years (part-time)

Intake date

September, January

Location

Dubai
Contact
Contact

Heriot-Watt University Dubai Campus

Telephone

+971 4 571 7000

Email
Overview
Coaching Psychology is a thriving area of applied psychology which deals with professional and personal issues in a practical way. There is a growing demand for experts in evidence-based coaching who can offer effective non-clinical interventions to help individuals and teams by increasing productivity, managing talent, and dealing with conflict, stress and change. This demand exists across a number of sectors and areas of performance including: occupational, educational, health, counselling, sport psychology, leadership, management, organisational development and human resources.
January entrants
Students starting the programme in January should note that it runs full-time for 2 semesters (12 months) + dissertation (February to April, 3 months) (total 16 months), or part-time runs for 4 semesters (24 months) + dissertation (March to August, 6 months) (total 30 months).
Students enrolling for the January intake programmes are not required to be be on campus during the summer break.
Accreditation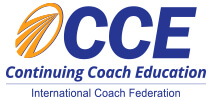 This programme is accredited by the International Coach Federation (ICF) as Continuing Coach Education (CCE). Therefore, a number of hours from the MSc courses can be used to apply for the personal credentialing process should the student wish to pursue accredited Coach status with the ICF. A certificate will be issues on completion of these hours.
Read more about the UAE Federal Accreditation.
Course content
Semester 1
Coaching Psychology
Social and Organisational Change
Organisational Culture
Intercultural Communication in the Workplace
Semester 2
Coaching Psychology Practice
Diversity
Leadership
Research Methods
+ Psychology for Business Masters Project (typically semester 3)
Dissertation
An MSc thesis is undertaken by students once they have completed and passed all taught courses. Students work individually with a project supervisor to design, carry out and present a formal project, where the topic relates to coaching psychology and practice. Students must show academic achievement in the taught courses to be considered eligible for the project.
Career
The practical, and theoretical focus of the programme ensures that graduates are able to make a positive and effective contribution through coaching practice with learning from Business Psychology. This may be through taking the degree into a career in coaching in the workplace or as a step to becoming an accredited Coach in other contexts such as Education, Counselling, or Sports. The skills developed through the programme can be applied in the workplace through various wider roles e.g., management, consultancy, HR, as well as through specific coaching roles e.g., Executive Coach, Talent Management, Career Coaching, Mentoring.
Entry requirements
For MSc entry, a good relevant Honours degree (first or second class) or equivalent overseas qualifications will be considered. Given the clear practical element of the programmes, we will also consider non-graduate candidates holding less than a good Honours degree, or its equivalent, but with compensating qualifications or experience may be admitted to the Postgraduate Diploma programme. Transfer to the MSc will be possible later on if exams and course work are at MSc level.
To find out about the entry requirements for this programme, please send an email to dubaienquiries@hw.ac.uk
English language requirements
Where English was not the medium of instruction during previous education, applicants must demonstrate English language proficiency equivalent to IELTS 6.5. Applicants should note that requirements for English language proficiency will focus particularly on written English.
Fees and funding
* All tuition fees inclusive of VAT
Scholarships and bursaries
See our range of degree entry, undergraduate, postgraduate taught and PhD scholarships and discounts.