Keeping Up Reunions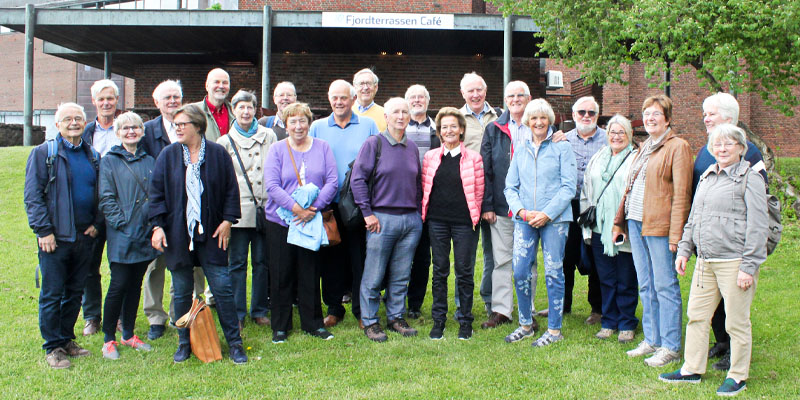 It all started in 1967 when we all graduated in civil engineering – or did it?
In 1963, we all started our course in the old building in Chambers Street, whilst it was still a technical college and it was not until 1966 that it became a university.
It was very fortunate that from the start our class included a large number of Norwegians, and during our four years at Heriot Watt, particularly in the final two years, we all developed a close relationship. We worked hard and we played hard. Friendships were formed.
This relationship appeared to have ended after we graduated in 1967 and all went our separate ways. However in 1997, Arne Holdhus, one of our Norwegian alumni sent an email pointing out that it was 30 years since our graduation. The result was a reunion in Edinburgh attended by 22 alumni and wives together with 5 members of staff, including Professor Bolton, his new wife and Effie Thornton the department secretary.
A great time was had by all
Another long separation until we realised that we were approaching 50 years since we started at Heriot Watt. As we were unsure how many of us would still be around 50 years after our graduation, another reunion in Edinburgh in 2013 was attended by 15 alumni and 14 wives, along with John Cowan as former staff representative. Again we all had a great time visiting local attractions, including a visit to the new campus at Riccarton, and more importantly reminiscing.
Having had two reunions in Edinburgh, it was decided that our next reunion – 50 years after graduating (we were still around!) - should be in Norway. Accordingly, in 2017, 24 alumni and wives met in Oslo. Again, we all had a wonderful time and old friendships were renewed.
As we all grow older, the reunions become more frequent and our latest was in June 2019, again in Edinburgh, where 24 alumni and wives attended and enjoyed a varied programme of visits. The finale was the closing dinner attended by an extra student and our special guest John Cowan, who many years before had introduced us to design of structures and who provided us with an entertaining speech in his unique fashion. In addition good wishes, for the reunion, were received from Professor Bolton and Ron Palmer.
We are already looking forward to planning the next reunion.