Mrs Elizabeth Rio Watt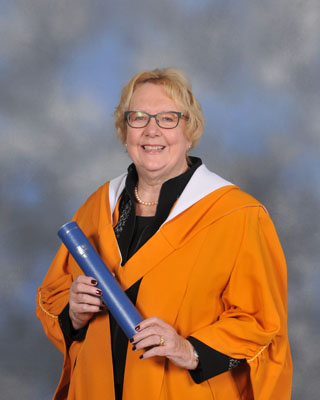 Honorary Doctorate of the University (Hon. DUniv)
Graduation Ceremony: Wednesday 15 November, 2017
Rio Watt's professional career began in 1970 when she was offered a place at Stranmillis College, Queen's University Belfast to train as a teacher of mathematics and business studies.
Graduating in 1973, she then taught in high schools and in further education colleges prior to having a family.
In 1986, Rio returned to work as manager of a YTS training centre for young people with physical, social and learning difficulties. In 1991, she joined the University of Edinburgh as administrator for the School of Chemistry. She remained in this post until 2005 when she transferred to Old College and became Director of the Academic Registry.
Rio always recognised the importance of working as a team and of developing and encouraging her staff to achieve their potential. She had a reputation as an innovator and enabler with a strong focus on improving work practices and the student experience. She retired from the University of Edinburgh in 2013 and was invited to take up the role of governor at Heriot-Watt University.
From 2014, as a Governor at Heriot-Watt she served on the Audit and Risk Committee before being appointed to the Court itself in 2015. Significantly, Rio had also served on the Global Student Liaison Committee for the past two years. She was appointed as Chair from the inception of this committee, which is dedicated to overseeing the arrangements in place to support the student experience, student engagement and representation. This success was in no small measure as a result of her inclusive and approachable style of leadership, her considerable experience in this area and her strong focus on creating a great experience for all students of Heriot-Watt University.