Mr Peter Gerard Schunemann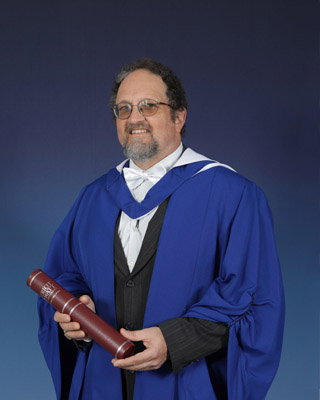 Honorary Doctorate of Engineering (Hon. DEng)
Graduation Ceremony: Thursday 21 June, 2018
Peter Schunemann is a leading researcher in developing mid-infrared nonlinear optical crystals, authoring or co-authoring over 400 publications and seven patents in the field.
Born in Peabody, Massachusetts, he attended the Massachusetts Institute of Technology (MIT), receiving bachelor and master of science degrees in materials science and engineering in 1984 and 1987 before joining Sanders Associates, a large US defense contractor bought by Lockheed Martin and later BAE Systems. There he developed crystal growth and processing of a new NLO material, zinc germanium phosphide, needed for shifting the wavelength of solid state lasers into the mid-infrared. This technology was vital for enabling laser-based countermeasures used to protect aircraft from heat-seeking missiles, and as a result, numerous troops and aircrews have been saved from guided missile attacks. This work earned him the Jack L. Bowers Award in 1994 and a Nova Award in 1995, the highest technical honors offered by Sanders and Lockheed Martin respectively, and the AOC Technology Hall of Fame award in 2002.
Mr Schunemann has gone on to develop and produce a series of exotic new nonlinear crystals – including silver gallium selenide, cad germanium arsenide, cad silicon phosphide and orientation-patterned gallium arsenide and gallium phosphide – that offer highly efficient wavelength conversion over wide spectral ranges.
He actively collaborates with scores of researchers worldwide to enable new laser sources for scientific, military, and commercial applications. He is a fellow of the optical societies OSA and SPIE, and a past president of the American Association of Crystal Growth.