Mr Saif Humaid Al Falasi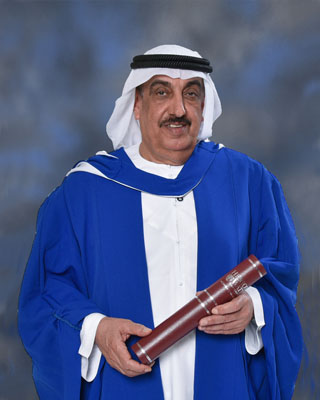 Honorary Doctorate of Engineering (Hon. DEng)
Graduation Ceremony: Wednesday 3 July 2019
Saif Humaid Al Falasi was appointed as Chief Executive Officer of ENOC Group in March 2015. Mr Al Falasi spearheads the group's business strategy and operational excellence locally and internationally, in alignment with the vision and plans of the Government of Dubai.
A 37-year veteran in the energy industry, Mr Al Falasi's wealth of experience and in-depth industry knowledge spans a wide range of specialties including project management and petroleum asset evaluation operations.
He joined ENOC in 2008 as Group General Manager. In 2011, he was appointed Executive Director for Environmental, Health, Safety and Quality (EHSQ) in the Corporate Affairs Directorate. Before this, Mr Al Falasi worked with Abu Dhabi National Oil Company (ADNOC) for 25 years and was a board member of National Marine Services.
Mr Al Falasi is Chairman of Gulf Energy Maritime and a board member of the Supreme Council of Energy and the Green Energy Council. He holds a BSc in petroleum engineering from Louisiana Tech University, USA. In 2014, he was awarded fellowship of the UK Energy Institute, recognising his leadership of the ENOC Energy and Resource Management Programme.