Professor George Stewart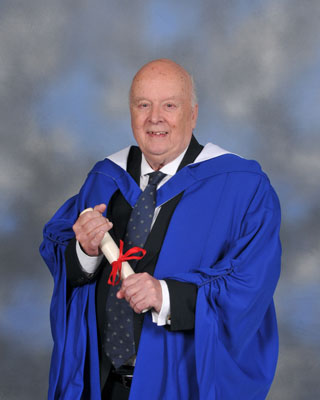 Honorary Doctorate of Engineering (Hon. DEng)
Graduation Ceremony: Tuesday 14 November, 2017
Professor George Stewart is a highly experienced and respected reservoir engineer with more than 50 years experience in upstream oil and gas. He was a professor for 38 years at Heriot-Watt University.
Professor Stewart holds a first class BSc honours degree in chemical engineering from the University of Edinburgh, and a PhD in chemical engineering from Newcastle University.
His career started in 1962 as a process engineer at Esso Refinery in Fawley and he subsequently joined Newcastle University in 1963 as an assistant lecturer, where he also completed his PhD. He moved to Heriot-Watt in 1967 as a lecturer in chemical engineering where he made a significant impact as a founding member of both the chemical engineering and petroleum engineering departments and as a senior lecturer in petroleum engineering from 1975.
In 1976 he took up a post as visiting professor at the University of Texas, Austin and authored the UK Department of Energy report entitled 'Enhanced Oil Recovery'. He travelled in 1978 to Paris where he worked for four years as a senior research engineer for Schlumberger.
Heriot-Watt University welcomed Professor Stewart back in 1982 as Head of Department and Professor of Petroleum Engineering until 1987, a post he held until 2013. At this time he was also a member of the UK Department of Energy Committee on Enhanced Oil Recovery (ACEORR) and founded Edinburgh Petroleum Services Ltd (EPS) in 1984.
He has published many papers for SPE on well testing and wireline formation testing and has authored two influential textbooks entitled 'Well Test Design and Analysis' and 'Wireline Formation Testing and Well Deliverability'.
During his long and distinguised career, Professor Stewart has also served as Chairman of EPS (1987); Chief Reservoir Engineer at Weatherford Consulting (2011); External Examiner at Imperial College (2010-2013); Chief Reservoir Engineer at Weatherford Kuala Lumpur (2012-2014); Weatherford Fellow (2015); Chief Reservoir Engineer, Weatherford International Houston (2015-2016); and founded R G Stewart Consulting Ltd (2016 to date).