Dr Robert Pieraccini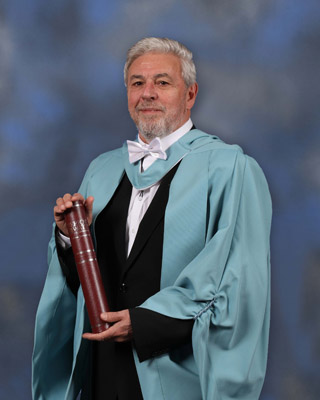 Honorary Doctorate of Science (Hon. DSc)
Graduation Ceremony: Tuesday 10 November, 2019
Dr Pieraccini is a technology expert in the fields of speech recognition, natural language, dialogue and human-machine interaction.
He graduated in December 1980 in Electrical Engineering from the University of Pisa, Italy, with a dissertation in the field of digital data transmission.
After receiving his Honorary Degree, Dr Pieraccini said: "For years I have been following the innovation and scientific progress carried out by Heriot-Watt. I am deeply honoured to receive this lifetime award and humbled to join the group of illustrious honorary graduates of this University."
After a number of years working as a research scientist at various laboratories from Italy to the USA, such as Bell Labs and IBM Research, he became the Chief Technology Officer at SpeechCycle in 2005 - a company specialising in sophisticated technical support systems based on voice recognition technology.
In 2012 he took up his post as Director and CEO of the International Computer Science Institute (ICSI), at Berkeley, California.
He then went on to Director of Advanced Conversational Technology at Jibo, Inc. in 2014-2017 - becoming a pioneer of the first consumer social robots for the home.
Roberto is now the Director of Engineering for the Google Assistant in Zurich where he has worked since March 2018
Roberto is a fellow of IEEE and ISCA (the international Speech Communication Association) and the recipient of several industry awards.
In 2016, he received the Primi Dieci (First Ten) award from the Italian-American Chamber of Commerce dedicated to the 10 most prominent Italian-Americans in science, art, and technology.
He is also the author of "The Voice in the Machine: Building Computers that Understand Speech," published by MIT Press in 2012, and of around 150 publications and patents.