Visit the Museum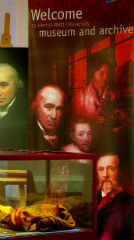 The University Museum and Archive at our Edinburgh Campus is located on the ground floor of the Cameron Smail Library. The Museum will be open from 2-4pm on Wednesdays during term time from 14 September and otherwise by appointment. To make an appointment to visit, please contact heritage@hw.ac.uk.
Enhanced with financial support from Museums Galleries Scotland, the museum tells the inspiring story of the University's development from its origins in Edinburgh's Old Town to Scotland's international university. It also reveals how our commitment to sustainability and the stewardship of our verdant campus is rooted in a rich heritage of campus and community life stretching back over 800 years to the turbulent times of Robert the Bruce.
The museum is linked to the Search Room where anyone can use our archival resources under expert guidance to make their own discoveries among the extensive records and images documenting the heritage of the University and the historic communities around the Edinburgh campus.
Maps and Directions to the Edinburgh campus are available.
Key information
Museum and Archive Service
Julia Stephen
Curator
+44 (0)131 451 3638