Social Sciences PhD Studentships 2021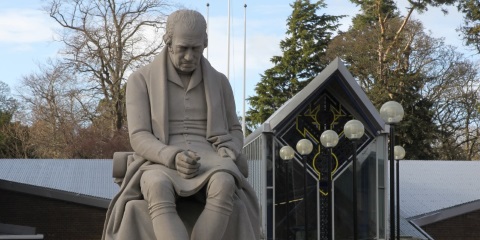 Name: School of Social Sciences PhD Studentships 2020-21
Amount: £15,285 annual stipend for three years (increased each year in line with UKRI studentships), plus tuition fees waived and a research support allowance of £2,250
Level: Postgraduate research
School: Social Sciences
Entry date: 11th January 2021
Closing date: 10th September 2020
The School of Social Sciences at Heriot-Watt University is home to Edinburgh Business School, the Department of Psychology, and the Department of Languages and Intercultural Studies. Our world-leading research in accountancy, business management, economics, finance, languages, intercultural studies and psychology is based around our seven research centres:
The Centre for Applied Behavioural Sciences
The Centre for Logistics and Sustainability
The Centre for Networks and Enterprise Excellence
The Centre for Research into Employment, Work and the Professions
The Centre for Social and Economic Data Analytics
The Centre for Translating and Interpreting Studies
The Intercultural Research Centre
The School is offering a number of full-time PhD studentships to start in January 2021. Studentships include a tuition fee waiver and an annual stipend currently set at £15,285 for the academic year 2020-21. The duration of the studentships is three years. The School of Social Sciences also offers a research support allowance of £2,250 over the registered period of study. In addition, full-time scholarship holders are normally offered an opportunity to undertake paid teaching support each academic year.
We have a number of project areas to which we're looking to recruit high-quality PhD candidates. Information on these can be found by following the discipline-specific links below:
Entry Criteria and Application
Applicants should have an undergraduate degree with a minimum classification of 2:1 in a field relevant to the project for which they are applying. A Master's degree is desirable for all projects, and essential for some (follow the links above for further details). Any additional and specific entry criteria can be found by following the links above. In addition, candidates whose first language is not English should meet the University's minimum English-language requirements. If you have not already studied a degree programme that was taught and examined in the medium of English, the minimum overall IELTS score is 6.5 with no score lower than 6.0 in Reading, Writing, Speaking and Listening.
Please note that possession of the minimum qualifications does not guarantee shortlisting for interview.
Applicants should submit their application via https://www.hw.ac.uk/study/apply/uk/postgraduate.htm
Applicants should supply:
A full Curriculum Vitae.
Copies of full academic transcripts from all previous academic degree courses and copies of degree certificates for degrees already awarded. If you are currently pursuing a degree course please provide all available marks to date.
A brief covering letter outlining why you want to study for a PhD at Heriot-Watt University, and what makes you an excellent candidate.
An outline research proposal (max. 1500 words). This should clearly identify how the proposed research question and modes of inquiry align with your chosen project area. The proposal should clearly identify which project area has been selected by referring to the project title and ref. no.
Interviews will take place between October 5th and 16th 2020, and will be conducted via video conferencing (e.g. Microsoft Teams or similar).
If you have any general queries about the applications process, please contact soss.pgr@hw.ac.uk
At Heriot-Watt University we understand that being diverse makes us better which is why we support a culture of respect and equal opportunity, and value diversity at the heart of what we do. We want to increase the diversity of our workplace to underpin a dynamic and creative environment and welcome applications from underrepresented groups.